By JC Ruiz
This year's Adidas Next Generation Tournament (ANGT) took place in in Vitoria, Spain in conjunction with the European Final Four. Here is a look at the top prospects that participated.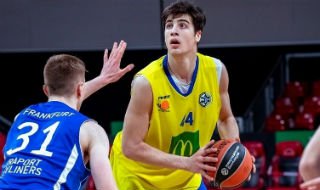 Deni Avdija, Maccabi Tel Aviv
Avidja was essentially able to show that he can play all 5 positions, at this level, at the ANGT, with amazing ball handling and passing skills for his size and a complete offensive skill set. His solid post game allows him to take advantage of mismatches. His mobility is good in the open floor and his sense of position and basketball IQ allows him to create baskets or assists easily. The Israeli prospect needs to develop his athleticism because his lack of elite athleticism could limit his effectiveness, forcing him to play closer the rim against bigger and stronger big men. In Vitoria, Avdija did not have easy shots because everyone they faced knew that he was the key to Maccabi Tel Aviv's offensive system, and keyed on him.

Amar Sylla, Real Madrid
Sylla made a name for himself among the NBA scouts thanks to his intriguing combination of height, wingspan and mobility. No doubt, His performance on the defensive side elevated his status as many scouts viewed him as a potential NBA player. He's still too soft, and most of his game is based on instinct, plus he still lacks a reliable post game. But with his improvements and his huge ceiling, he can legitimately be considered one of the top international prospects. The Senegalese prospect can shoot from beyond the arc but the needs time and space.
Usman Garuba, Real Madrid
Garuba can do it all defensively, as he is mobile enough to step out and defend on the perimeter and move his feet well enough to defend pick-and-rolls. Garuba is a modern power forward with high energy, who always gives 100%. The Spanish prospect has a really strong body which allows him to very hard on both ends of the floor. He runs the floor extremely well and he can set great screens and rolls hard to the basket. Although he can shoot from the perimeter, Garuba needs to continue working on it. He needs to work on his offensive game if he wants to be considered useful at that end at the next level, specially his ball handling.
Mario Nakic, Real Madrid
Nakic led Real Madrid from the perimeter. The Croatian Shooting Guard was the best scorer for his team with 17.25 points per game with a very impressive Final Game performance against Bemax as he scored 33 points. Nakic has good size and good instincts for the game. He likes to create his own shots but he needs to read the game better and improve his 3 point shot.
Aleksandar Langovic, Mega Bemax
Mega Bemax was probably the team that was most fun to watch because of his intensity. Aleksandar Langovic was the team's best player there thanks to his size and skill set. The Serbian is versatile player with the ability to play both forward positions. He should improve his dribbling skills if he wants to play as Small Forward in the future, but he showed an interesting long range shoot as he showed in the final game where he made four.
Jason George, Bayern Munich
Matey Rudan, Bayern Munich
George and Rudan led Bayern Munich. George is a super versatile perimeter player. He has elite athleticism but he needs to understand the game better if he wants to play as a point guard at the next level. His jump shot is reliable, especially from mid-range, but he needs to work on his three point shot. Rudan showed a high basketball IQ with a nice jump shot, especially from mid-range. His low post game is nice, and he rebounds well. His lack of athleticism is a concern, and it limits him.
Kerr Kriisa, Zalgiris Kaunas
Kriisa is a really fun player who can play on the ball offensively and possesses good instincts and athletic ability to rack up steals and assist his teammates. The Estonian point guard had the better dribble in Vitoria. Kriisa posses an intriguing shot, fluid mechanics, a quick release, and the huge range, but he needs to make better decisions if he wants to improve his shooting percentage.
Paulius Murauskas, Zalgiris Kaunas
Another interesting name from Zalgiris was Murauskas. Despite the fact he was born in 2004, he possesses interesting size with a good feel for the game. He is a player to keep in mind for the future.
Azuolas Tubelis, Rytas Vilnius
Tubelis was the best player of Rytas. He played as a combo forward but he can put the ball on the floor or shoot from beyond the arc. He plays hard and with passion.