The 2020 high school class appears to have the depth missing from the class of 2019. Providing a great deal of intrigue they managed to compete evenly with the senior class in Colorado Springs. Though injuries were an issue with a few top prospects in 2020 (as they were with a majority of 2019), a few players managed to stand out throughout the October 5-7 USA Junior Minicamp. 2020 has a number of exciting guard and wing prospects, with some skilled and athletic big men mixed in as well.
Scottie Barnes SF/PF 7/31/2001
Latest Measurements (from 2018 USA U17 Training Camp in June): 6'6.5" without shoes, 6'8" with shoes, 210 lbs, 7'2" wingspan, 9'0" standing reach
Barnes brings great versatility on both ends of the floor. He stood out at the previous year's October Minicamp, in particular due to his defensive awareness, along with his ball skills on offense. While he does not possess great speed and quickness, he has good body control and got to his spots on the floor, consistently creating opportunities near the basket. He also is a great communicator on the floor and brought high-level intensity to both drills and scrimmages.
His shot is definitely an area of concern moving forward, as it has a hitch and that's apparent and he struggles during long-range shooting stills. But, he also seemed to have some confidence and made a few mid-range pull-ups, which he seems to do at a decent rate based on other data of his shooting as well. Krossover has Barnes making 43-115 (37%) of his mid-range shots, which will likely end up being less of his relied upon offense, but certainly gives hope to his future as a shot maker and scorer.
Overall, Barnes has some potential as a point-forward type, and should be able to guard just about any position at the college level. His ball skills and passing ability in particular make him incredibly enticing, as does his size to potentially guard either forward spot. He has good instincts as a rebounder and is very chiseled already and was definitely a lot for the players at the camp to handle. NBA scouts should immediately like what they see and while his athleticism may not be off the charts, his confidence and talent stood out at this camp, and should lead to a lot of success at future levels.
Jalen Green SG 2/9/2002
Latest Measurements (from 2018 USA U17 Training Camp in June): 6'4" without shoes, 6'5" with shoes, 172 lbs, 6'7.5" wingspan, 8'5" standing reach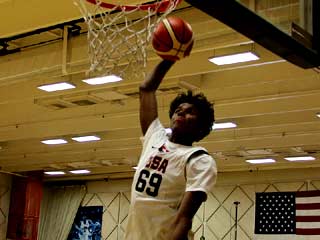 Green is very bouncy and it was great to see that he appears to have gotten bigger than he was at last year's Minicamp while maintaining his top-level athleticism. He unfortunately only played in a single camp session before missing the rest due to a foot injury. In scrimmages he did rely on his outside shooting, though he has shown an ability to drive and dish, plus looked to have tightened his handle. His shooting can be streaky, but as seen in the U17 World Championships in Argentina last summer, he can be an explosive playmaker, creating for himself and at times was deadly from long-range as well. He led the USA to a Gold Medal, averaging 15.7 ppg in 18.7 mpg, earning MVP of the tournament.
Would definitely have been interesting to see if Green had been a little less streaky here and how he would have stood out, as a number of players in the 2020 class did throughout the camp. Also, there are questions about his overall decision making, as to whether he is just a volume shooter and scorer, or if he truly brings playmaking for others to the table as well. His assist-to-turnover ratio will be something to monitor in AAU and if he plays for the USA U19 team this upcoming summer.
Evan Mobley PF/C 6/18/2001
Latest Measurements (from 2018 USA U17 Training Camp in June): 6'10" without shoes, 6'11.5" with shoes, 192 lbs, 7'4" wingspan, 9'0" standing reach
With his size and shooting ability, Mobley was a consistent presence in scrimmages and really stood out in drills as well. He still obviously needs to add strength to his frame, but he was quite willing to play close to the hoop and showed potential to stretch the floor, which has been affirmed through his play in the AAU and with the USA U17 World Championship team. He moves very well and has great agility for someone who seems to be close to cracking 7'0", which makes him a force as a rim protector and gives potential for switching on defense.
He was very efficient, moved well without the ball as a threat as both a rim runner, cutter and lob catcher. Mobley showed good hands, soft touch and nice reaction speed to plays, which should make him a match-up nightmare once he fills out in college. Mobley skyrocketed up the rankings this summer and looks to be in the running for potential top pick in the 2021 NBA Draft, as he fits the mold of a modern center as well as anyone in the next two upcoming classes. In fact, he could be a possible threat to reclassify, as his father Eric is an assistant coach for USC and his brother Isaiah Mobley will be an incoming freshman for 2019-20. Basically, he should be on the NBA radar very soon and will be a highly sought after talent.
Brandon Boston SG 11/28/2001
Latest Measurements (from 2018 USA U17 Training Camp in June): 6'4.5" without shoes, 6'5.5" with shoes, 175 lbs, 6'10" wingspan, 8'6" standing reach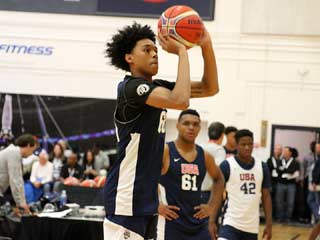 With nice athleticism and some shiftiness when he puts the ball on the floor, Boston was one of the premier scorers at Minicamp and shows a great deal of promise. His shot does start a little low, but he shows potential as a shooter, shooting well from the FT line and performing well in shooting drills. He is a solid athlete with nice size for a wing and good lateral ability. While he made a few nice passes on the move, at this point he is definitely more of a scorer and will need to work on his all-around game.
He is still very thin at this point and had some issues finishing around the hoop at times, which he also exhibited during the EYBL (54% FG inside 5 feet according to Krossover). He showed potential in shot creation and as a shooter that one could see developing more efficiency and once he gains strength, his finishing should greatly improve. He definitely took the lead as a scoring option throughout scrimmages, which was impressive given that he still had yet to turn 17. Boston is one of the higher upside prospects and with his performance here, there's a lot to be excited about as a future wing scorer.
Cade Cunningham SG/SF 9/25/2001
Latest Measurements (from 2018 Nike Elite 100 in July): 6'5.75" without shoes, 212.8 lbs, 6'11.5" wingspan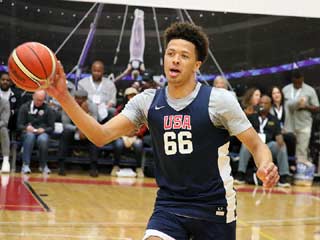 Word is that Coach Kevin Boyle will be putting the ball in Cunningham's hands quite a bit at Montverde Academy, and there seems to be reason for optimism in terms of his passing ability. He has vision to go along with strength and length that have made him a legitimate top 10 player in the Class of 2020, and he could still be rising. Shooting consistency still is a work in progress, though he shot well from the line at camp and in the EYBL, where his all-around numbers were impressive (albeit mostly U16, though he did fare well in the little U17 he played).
It is still uncertain as to whether Cunningham will have a future as a point guard, as he lacks ideal speed for the position, but the playmaking facet makes him very enticing and if his shot does catch up, he could have the makings of becoming a highly sought after high volume scoring wing. He still did not really take a front seat in terms of creating his own offense and at times seemed to have issues getting to the basket off the bounce. He also forces some shots, and could work on playing off of the ball as well. Still, with the work he did at the Minicamp, it is not surprising that he will likely be Montverde's go-to player to begin the post-R.J. Barrett era. With very impressive maturity, he showed signs he was a winning player and should help Montverde compete at the national level once again.
Greg Brown SF/PF 9/1/2001
Latest Measurements (from 2018 Nike Elite 100 in July): 6'7.5" without shoes, 190.4 lbs, 6'10" wingspan
There were a handful of players competing for most explosive athlete at the camp and Brown may have had the inside track. On a couple of occasions in drills, he dunked the ball and put both of his elbows in the rim, while he also probably had the dunk of the camp in scrimmages. With good size for either forward spot with continued added strength, Brown was very active both this year and last. Still very much a work in progress in terms of skill, his shot form looks alright, though he definitely had varied results.
It seems that shooting continues to be an issue for him, and he also is a bit limited in terms of creating his own offense, as he gets a lot of his baskets off of cuts and offensive rebound put backs. He also is not the most versatile playmaker as he is bit predictable on offense, and the hope is that his ball skills catch-up to his off the charts run / jump athleticism. He is so bouncy and active, that he should immediately contribute as a rebounder and defender in college, with the chance that he eventually becomes a more versatile offensive presence. He may be best as a college 4, though it is not hard to conceive that this could end up being his best position in the NBA as well, which could work with added strength and skill development. Though at this point his body type would suggest he develop as a wing.
RJ Hampton PG/SG 2/7/2001
Latest Measurements (from 2018 USA U17 Training Camp in June): 6'3" without shoes, 6'4" with shoes, 176 lbs, 6'7" wingspan, 8'4" standing reach
Hampton also only played during a couple of the five sessions media was able to view. He has filled out quite a bit from last year and seems to have improved his shooting. He is a slick ball handler and has the ability to maneuver through opponents, though it is a bit of a mixed bag how well he utilizes that at this point. His decision-making can certainly use some work in terms of passing and shot selection. Something interesting of note is that when he misses, it is sometimes way off the mark, which leads to quick turnarounds for the opposing team at times.
He still is a very nice athlete and was very quick at 6'4" if not having possibly grown. Hampton should be viewed as a combo guard, as there seems to be upside to his playmaking and potential in pushing the ball in transition. Operating the pick-and-roll should be a focus moving forward for him, as if he progresses in this facet, he will increase his value for the NBA level. Hampton was definitely a focal point in both of the scrimmages that he played and if he reclassifies, he should be seen as a possible 2020 one-and-done. He has claimed right now to be staying in the high school class of 2020, though there is still a possibility that he changes his mind. With concerns about the overall depth in the 2019 high school class, it could be an avenue worth exploring.
Josh Christopher SG 12/8/2001
Latest Measurements (from 2018 USA U17 Training Camp in June): 6'3" without shoes, 6'4.25" with shoes, 203 lbs, 6'8" wingspan, 8'3.5" standing reach
Confidence, quickness and scoring ability are all things Christopher provides in spades. One of the premier shooters in his class, Christopher is a long-range threat who can really bring it from all three levels, although he also can struggle a bit around the basket. He has a tendency to be a volume shooter at this point and his efficiency can use some work in terms of overall shot selection, but he left his mark at the camp once again, as he had a strong 2017 Minicamp as well. At his size, it would be a big bonus if he showed more of an ability to make plays for others, though he does have ball skills and this could come with time. Still very strong for his age and was a relied upon scorer in scrimmages.
Jaden Springer SG 9/25/2002
Listed Measurements (from October 2018 Junior Minicamp): 6'5 with shoes, 190 lbs
Springer was the youngest class of 2020 player in attendance at minicamp and is a very strong guard prospect who has recently transferred to IMG Academy. While his shooting is still not a strength to his game at this point, he showed some impressive ball skills, defensive intensity and ability to drive with a head of steam. He thrives in the floor game and should be a force in transition, with rare composure for a player his age. With a bevy of IMG players in attendance at USA October Minicamp, they had complimentary things to say about Springer. He should be in for a strong season and is likely to follow that with a big spring and summer circuit.
Isaiah Todd PF/C 10/17/2001
Latest Measurements (from 2017 USA October Junior Minicamp in October): 6'8.5" without shoes, 6'9.5" with shoes, 199 lbs, 7'0" wingspan, 8'11" standing reach
Todd was consistently seen near the top of the early HS Class of 2020 rankings, though his stock took a dive after an inconsistent spring and summer in the adidas Gauntlet circuit. He is very fluid at his size and runs the floor quite well, though it seems that he has not been overly efficient or aggressive. Todd may not have answered all of those questions at Minicamp, but he showed promise and was active, which goes a long way in a camp where that was not always the case.
While Todd has so many tools athletically, he seems to settle much too often for mid-range shots, which he has not justified taking percentage wise (in a 21 game sample size on Krossover, 39% of his FG attempts are mid range at only 30% FG). He does not really seem to have any go-to post moves at this point and beyond scoring off of offensive rebounds, struggles to score at times. There is still quite a bit to like in terms of his size and athletic profile where one can see an upward trajectory. This camp definitely seemed to be a step in the right direction, though there is still work to do.
Isaiah Jackson PF 1/10/2002
Latest Measurements (from 2018 Nike Elite 100 in July): 6'7.75" without shoes, 178.2 lbs, 7'0.5" wingspan
Another player who was limited by injury but showed tantalizing athleticism and length, Jackson was worth mentioning for his work in drills alone. He is known for his rim protection and potential as a defender, with an offensive game that is still developing. He appears to still be growing and adding to his frame, and in time he could turn into a high level energy big, lob catcher. Hopefully will continue to develop his shooting. On a very limited sample size, he shot only 58% FT in EYBL, but was 5-10 from 3 and was great at finishing around the basket. He has risen up the rankings this summer and clearly will be someone to monitor in this class from an NBA perspective.
Jeremy Roach PG 11/1/2001
Latest Measurements (from 2018 USA U17 Training Camp in June): 6'0.5" without shoes, 6'1.5" with shoes, 178 lbs, 6'3" wingspan, 8'0" standing reach
Roach impressed with his athleticism, improved shooting and decision making during the camp. He is currently being sought after by just about all of the blue bloods, with North Carolina, Duke and Kentucky offers at this point. In what is viewed as a thin point guard class (depending on who is classified as a PG), Roach looks to be a team leader who has some potential to be very effective with the ball in his hands. He won a Peach Jam title with Team Takeover and was a member of the Gold Medal USA U17 World Championship team as well, so he has experience excelling with top talent and winning. His shooting in drills and scrimmages was a positive and he was one of the more consistent point guards at the camp.
Also see: 2018 USA Junior National Team October Minicamp: Senior Standouts
Follow Michael on twitter @NBADraftMikeyV or feel free to send him an e-mail at [email protected]