The prestigious Marshall County Hoopfest had some solid talent and competitive games. Here's a rundown of the event's best players.
EJ Liddell 6'7 230 PF/SF – Belleville West 2019 (Ohio State)
Liddell had the superior body and athleticism both games he took the floor. He has good strength but he's a little undersized as a four-man but in today's small ball era, we can't rule out him as a power forward. Although he did show nice shot from three, his perimeter game can expand. He showed an effective fadeaway in the post and didn't force his scoring. He elevated above everyone on dunks, rebounds, and blocking shots on the defensive end. Liddell led Belleville West to win both games, finishing with 42 points (18-26 FG, 69.2%) and 16 rebounds (six offensive) in the first game against Madisonville-North Hopkins and 22 points, 14 rebounds, and four blocks against Callaway. He showed a reliable stroke from the foul line going 15-17 over the pair of games.
Dekeyvan Tandy 6'1 175 PG – University Heights 2019 (Xavier)
Tandy scored 31 points in the win over Callaway. He went 5-12 from three (41.7%), showing improved outside shooting since last year but he settled a lot as he was quick with the trigger at times and pulling up before making a pass after bringing the ball up the floor. He's a scorer by nature, improving as a point guard will be a focus moving forward. He displayed a very good transition handle, changing direction and making moves at a quick pace with the ball in his control. He doesn't need triple threat to use his first step in the half court as he beat the defense time after time mid dribble. Tandy has good body control when he gets into the paint, finishing with some flair on layups. He ended with seven rebounds in addition to his scoring.
Zach Harvey 6'4 180 PG/SG – Prolific Prep 2020
Harvey provides a scoring punch as Prolific Prep's new addition this year. He's quick and showed his athleticism in the open floor. He has good footwork on step backs and a nice shot from outside. His decision making and passing can improve when he gets ran off the three-point line, but Harvey got to the basket on drives to finish with dunks at times too. Harvey was big over the weekend to help Prolific Prep win all three games.
Nimari Burnett 6'3 185 PG – Prolific Prep 2020
Burnett had a tremendous set of games, running the point for Prolific. He did a good job creating and his long arms give him a wide radius to work with his dribble. Although he dribbles a lot, he doesn't overdribble and has a reactive game. Burnett is a deadeye shooter, off the catch or dribble, and caught fire from outside, including a 40-point outburst making eight of his 15 threes (53.3%) against Our Saviour Lutheran. Burnett also finished with 27 points, blocked two shots, and had three steals in their first game against Aspire Academy.
DJ Jeffries 6'7 215 SF – Olive Branch 2019 (Memphis)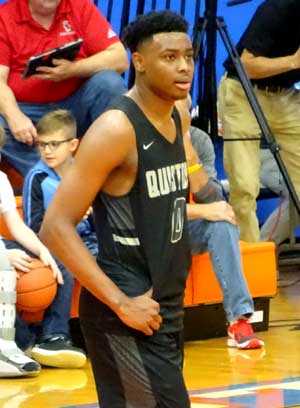 Jeffries finished with 20 points and 12 rebounds in the loss to Scott County. He threw down a few dunks and makes some nice spins and other moves in the flow of the game. He has good tools to work with, with his talent and athleticism but his shooting hasn't shown much improvement and he can show better consistency finishing in the paint. He shot 8-14 (57.1%) from the free-throw line and had six turnovers. He's relied on using superior athleticism to float it over the top of the defense, but he will have to tighten up his handle and work on overall offensive technique as he prepares for the next level.
Posh Alexander 6'0 180 PG – Our Saviour Lutheran 2020
Alexander is one of the toughest players in the nation and doesn't let his lack of height keep him from scoring in the paint. His speed combined with his tight ballhandling, ability to change directions, and reacting to the defense allows him to get in tight spaces where he makes plays for others or scores for himself. He's fearless driving to the hoop and will challenge anyone of size when he explodes in the paint. He hits the floor on a lot of his drives which took him out of the game against Prolific Prep after breaking his arm, which will leave him out for the remainder of the season. His shooting can improve but he knocks down enough threes to keep the defense honest. Alexander finished with ten points, 12 rebounds, and eight assists in the win against Tennessee Prep and 14 points in the loss to Prolific Prep.
Dontaie Allen 6'7 205 SF – Pendleton County 2019 (Kentucky)
Allen was face guarded the entire game and was plagued with foul trouble, eventually fouling out but still scored 25 points and grabbed 21 rebounds to get the win over Marshall County. His jump shot is smooth, but he struggled to convert on most shots and only went 1-5 from three. A combination of the home crowd heckling, missing shots, and a high foul count, Allen had some frustration but stayed mellow when it mattered. He was able to maneuver his way to the basket, even when facing a press. Although he did force a lot of shots, he did what he had to do to get the win as he scored half of his teams points and Pendleton County only had five players score. Allen showed he can score from anywhere on the floor, has good versatility, and rebounded very well in his only game at Hoopfest.
Damion Baugh 6'4 185 PG – Tennessee Prep 2019
Baugh has quick hands and feet, he's hard to press as a ballhandler as he likes to push the ball. He's an aggressive athlete, looking to throw down jams whenever he gets into the lane. He creates well in the half court and reacts well to the defense. He sees the floor well but seems more comfortable driving to his right where he finished more on drives and looked to make a cross court pass with his dominant hand. He can get out of control as he went full speed at times when he could slow it down but Baugh's an exciting player to watch and looked better than most have him ranked. His outside stroke looks good and he can shoot off the dribble as well. Baugh ended with 20 points, eight rebounds, four assists, and three steals to beat Aspire Academy.