The 21st annual Nike Hoop Summit saw the World Team end a two-year drought with an 89-76 win over Team USA. In his eighth year coaching the World squad, Roy Rana now has a 4-4 record in the Hoop Summit. Rana also was the head coach of Canada's U19 World Championship gold medal winning junior team in Cairo this summer, with World Team star RJ Barrett having a dominant 38 points and 14 rebounds in a semifinal win over Team USA.
With 13 Hoop Summit alumnus hearing their names called during the 2017 NBA Draft, the practices and game were once again filled with NBA decision makers. Coach Rana and assistant Marin Sedlacek ran organized and competitive practices, which gave a really good glimpse into where these players are right now and where they could be headed. With Barrett the only returnee from the 2017 Hoop Summit, this game could have a number of potential returnees for next year and, of course, some players who could add to the 203 game alumnus who have been drafted.

RJ Barrett SG Canada 6/14/00 (6'6.5 (height in shoes), 208, 6'9 wingspan, 8'6 standing reach)
It has truly been an incredible year for RJ Barrett, leading Canada to their first ever men's basketball gold medal at the U19 World Championships in Cairo while also capping off his high school career at Montverde with a 37-0 record and a GEICO High School National victory. He can now add a Hoop Summit win to his resume as well, as he was the focal point of the World Team victory with 20 points (15 of which came in the 1st half), 9 rebounds, 6 assists and 5 steals. Barrett's competitive drive is something that is definitely evident, with an aggressive style that points to his ball skills, body control and strength. While it was overall a week that showed Barrett's winning traits as a basketball player, it also showed some of the areas which should be addressed at Duke and what NBA teams will be watching closely in terms of his future prospects.
Barrett has always possessed a strong frame for his age, though it was rather impressive to see that after weighing in at 193 lbs at the 2017 game, he had added 15 pounds while maintaining his lift and ability to run the floor. He excels in transition, is a solid ball handler who did pretty well when faced with pressure. A number of times in the game he brought the ball up the floor, and his playmaking seems to be an overlooked part of his skill package. He made some really nice reads, hitting Leandro Bolmaro for both of his three-pointers, which really cracked the lead open for the World. He also has great footwork, absorbs contact well on drives and always has had a penchant for getting to the foul line. Although he is not a world-class leaper, he still had some beautiful alley-oop finishes and was very strong driving to the rim, getting good angles and showing touch near the hoop.
One area that has long been a concern regarding Barrett is his shooting. Though he obviously was looking to display his capability as a shooter in practice scrimmages, his shot was quite inconsistent and definitely knocked down his efficiency. During Thursday's practice, he shot back-to-back 17-37 from NBA three-point range, a number well below many of his NBA counterparts who have been in the game before him. This seems to be an area he is at least addressing and was trying to work on during practice, though he also forced some tough looks in the game and his 20 points did come on 20 field goal attempts.
While one would like to see Barrett further along as a shooter, and with his free throw percentage, there is absolutely room for optimism. Although he seemed to have been facing the fatigue of a long season at Montverde, which included him going from the McDonald's All-American game in Atlanta straight to the three-day long GEICO National Championships, he maintained his competitive fire and once again looked like the best player on the floor amongst his peers. Barrett provides an ability to attack the basket and playmaking with legitimate wing size, with a work ethic that has kept him at the top of the 2018 HS Class with some worthy challengers vying for his spot. Though he may not be a lock for the top spot in the 2019 NBA Draft, he looks to be the early front runner, with his being a potentially high usage, playmaking wings that are both valuable and very difficult to come by.
Jaylen Hoard SF/PF France 3/30/99 (6'8.5, 207, 7'1 wingspan, 8'9 standing reach)
Hoard was the most consistent practice performer for the World Team, providing a high activity level while showing some potential in terms of ball skills and ability to stretch the floor. He excelled on the boards in practice, which carried over to the game as well. He would consistently score off of cuts and offensive rebounds throughout the week, qualities that should make him an immediate impact college 4, with enough size where that could be his potential NBA role as well. He excelled in transition, showed some defensive versatility and some athleticism that one would want in their combo forward.
Hoard finished the game with 11 points and 15 rebounds (7 offensive rebounds). He consistently displayed an unselfish attitude, and even showed some vision and a willingness to pass from the high post or to get a break moving forward. He will need to gain strength and can still work on his long-range consistency, but the tools are there and he shot fairly well in practice. He has a great nose for scoring and probably scored more on offensive rebounds than anyone else, which is something that he has done at every level he has played and is a translatable skill.
Hoard flew straight from Sunday's Jordan Brand game to make the Monday night practice and his calm demeanor and quiet intensity were noticeable, certainly putting him on team's radars entering his freshman year at Wake Forest. Seen as a five-star player by recruiting consensus, his play at the Hoop Summit only reinforced that with a strong activity level that help him stack a stat sheet. While he may take some time to get up to the speed of the college game in terms of handling the ball and doing more than spot-up shooting, he could have a potentially short stay in college and could carve out a potential NBA role with the skill package he displayed in Portland.
Josh Green SG Australia 11/16/00 (6'5.5, 199, 6'10 wingspan, 8'7 standing reach)
With enough size for the wing, developing ball skills and some potential as a passer on the move, Green showed some pro tools during his time at the Hoop Summit. His defense and activity level were noticeable, as were his quickness on cuts, in transition and with the ball in his hands. While his shot still needs work, it seems workable and should prove to be yet another facet to his game. He had a few flashy, above the rim run out dunks and a number of finesse finishes with English for lay-ups.
There were times where Green ran the point during scrimmages, though he seemed to excel off the ball and at times could make a few hasty decisions. Though, with the way he measured out and his blazing quickness, he proved he could be a very solid wing option. With another year of high school, and currently ranked #27 on the 247 Sports Composite rankings, he showed a great deal of NBA intrigue that should move him among the class's elite.
This World Team seemed to be full of competitive players and hard workers, with Green very much being a shining example of both things. He should prove to be a versatile defender in time, with a developing offensive game that makes him a spot-up threat and a terror in transition. His ability in the pick-and-roll will be something to monitor, though it could definitely end up being in his wheelhouse as well. Green played a key role off of the bench in the World's win, making their first 3-pointer, along with a memorable baseline dunk finish earlier in the game that showed off his high level leaping ability. He finished with 11 points and 3 assists, while leaving NBA personnel with a very positive impression that seemed to mirror what they saw at Basketball Without Borders a couple months earlier.
Charles Bassey C Nigeria 10/28/00 (6'10.5, 234, 7'3 wingspan, 9'2.5 standing reach)
With a terrific frame and strong leaping ability, Bassey was a terror on the boards all week during practice. He covers a wide area of the floor as a rebounder, with mobility and strength that allows him to stay active on the boards. This skill carried over to the game to a World Team record of 16 rebounds (5 offensive) to go along with 13 points to make him the team's 2nd leading scorer as well.
In practices, there were times where he seemed to get a bit frustrated if tangled up or in contact, but he always seemed to play through it and showed his competitive fire. He runs the floor well, though he has rather small strides and while he was known to flash some ball skills in his younger days, he did not really do any of that at the Hoop Summit. He was the most consistent performer of the bigs, scoring off of hook shots quite often and displaying a decent touch while shooting in practice. Still, he at times was a bit slow to react defensively and in terms of decision making as a passer.
His rebounding is one of his top skills, though it will be important to focus on how he defends moving forward. He seemed to be strong in the post, though once he was moved away from the basket he had trouble, also with out of bounds scenarios. His effort and athleticism still left a very positive impression after the game, and it will be interesting to see how he may compete next year with some other talented big men at the top of the class.
Ignas Brazdeikis SF Canada 1/8/99 (6'7, 223, 6'8.75 wingspan, 8'5 standing reach)
Brazdeikis loves to put his head down and attack the hoop, which is what he did often in practice and carried over to the game as well. He also showed some improved shooting in drills, along with his usual drives absorbing contact and also some decent athleticism. While he measured smaller than one might hope, as he is ideally a college 4, he has measured with a 8'6.5" standing reach at a past event and should have the size to compete there.
Ignas is known for his fearlessness as a driver and his penchant for scoring, with his 9 points coming in just over 12 minutes. Positive aspects during the game were his garnering 4 rebounds and 3 assists, as his all-around play will be crucial to his pro prospects down the line. He ultimately is a tad stiffer than one might want a wing and looks to be a long-term player in college. Though, with his ultra-aggressive style and his notable improvement on his weaknesses through the years, Brazdeikis should not be counted out as becoming a high level player at Michigan.
Andrew Nembhard PG Canada 1/16/00 (6'3.75, 192, 6'5.5 wingspan, 8'2 standing reach)
Nembhard is a steady hand as a point guard with a solid handle in space and a definite ability to set the table for his teammates. Practice still was at times a struggle for him, as he was constantly pressured by the quicker Yago Dos Santos and would settle for some difficult mid-range jump shots, as he had difficulty getting to the basket. The game seemed to be his time to shine, as he found his Montverde teammate RJ Barrett for a pair of beautiful alley-oops, finishing with 5 points, 4 assists and a team high +18 plus/minus.
Nembhard will be asked to be a set-up man next year at Florida, which really plays to his strength. While he is not incredibly quick at the point of attack, he seems to have a good concept on team defense and was regularly playing the passing lanes, getting steals. His shot will be something that needs work, as he tends to shoot from the side of his head with a low release. He also seemed to have difficulty handling under pressure and getting by quicker defenders. In terms of his individual scoring, this could be a problem moving forward.
Nembhard still plays quite hard and seems to provide a calming leadership. Florida will certainly use Nembhard's ability as a distributor as well as his size and nose for the ball on defense next season as a replacement for senior, Chris Chiozza. The shooting and finishing at the rim will be big keys for him moving forward, though his progress in the game left some optimism after a less than ideal week of practice.
N'Faly Dante C Mali 10/19/01 (6'11, 242, 7'5 wingspan, 9'2.5 standing reach)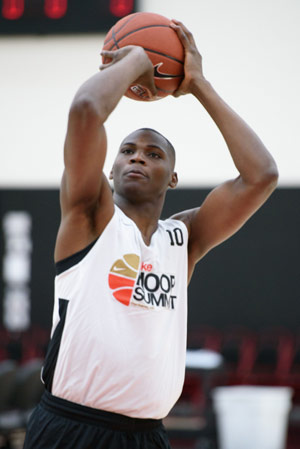 Dante was the World Team's pre-eminent rim protector in practice, as he would protect the paint well and occasionally even sneak out to make a block on the perimeter. He is pretty quick off of the floor, fairly mobile and seems to have a consistency out to the mid-range, making a few in a row during one portion of scrimmages. He is still relatively new to basketball (only having played for two years) and has made huge strides in terms of his strength, gaining reportedly nearly one hundred pounds in four years.
As the youngest player in the game, he still showed that he was quite raw and took longer than some of his other teammates to grasp concepts. He had a habit of bringing the ball very low, which led to some turnovers or him losing it in traffic on rebounds. While these things are correctable and should get better with time, it also will be key to monitor his overall movement. It appeared that there was quite a bit of pressure on his ankle and while it did not seem to effect his mobility, it did seem to at times hinder his balance.
All in all, Dante seemed to hang with Bassey fairly well for the most part and proved to be the better shot blocker of the two. His physical tools are impressive and he certainly moves quite well. With a year under his belt, he could come back a much-improved player. At this current time, people were already talking about him reclassifying from 2020 to 2019, as he appears to be physically ready to do so with a game that should catch up to make him an impact college big man who could turn into much more.
Bathiste Tchouaffe SG France 5/19/98 (6'6, 203, 6'8 wingspan, 8'5 standing reach)
Tchouaffe was a consummate pro throughout the week, with pristine form on his jump shot, a great concept of team basketball play and the maturity one hoped for from the elder statesman of the World Team. Deadly as a spot-up shooter, Tchouaffe also had some notable defensive moments where he recorded some steals that led to fast breaks. Still, a lack of elite lift and athleticism at times limited just how effective he was in scrimmages.
He logged the start on the wing during the game, though only logged 9 minutes of playing time and 2 points, missing all three of his attempts behind the arc. He currently is logging limited minutes for Nanterre in France as well, but he has a strong frame and appears to be a hard worker. He still has two more years until he was automatically draft eligible, though his lack of athleticism and limited ball skills might prevent him from hearing his name called. The hard work, attitude and intangibles still make him someone worth tracking and potentially a great role player in Europe.
Leandro Bolmaro SG Argentina 9/11/00 (6'6.5, 182, 6'8 wingspan, 8'7 standing reach)
After garnering some strong reviews at Basketball Without Borders in February, Bolmaro played a nice role for this team, with his corner 3's giving some big time momentum for what proved to be a big push for the World win. His shot does seem to require space, as he has a very low release and does not seem to have the same motion on a consistent basis. This still did not prevent him from shooting better and better as the week progressed, with him consistently hitting open catch-and-shoot looks in practice and of course his two in the game.
Even beyond that, he seemed to have some nice awareness in the pick-and-roll, making some nice passes to cutters at times and even showing some ball skills. He was not the most versatile defender and still needs to gain some significant upper body strength, though at just 17-years old possessed a good understanding of the game and knowledge of where to pick his spots. It appears that Bolmaro is turning pro in Argentina and while he seems to be a ways away in terms of developing a NBA role, he will be worth monitoring over the next few years.
Yago Dos Santos PG Brazil 3/9/99 (5'10.5, 160, 5'9.5 wingspan, 7'7 standing reach)
Listed generously at 5'10, Dos Santos made his presence felt with pesky full court defense, his ability to get into the paint and putting pressure on the defense with his outside shooting. The shot may not have always been falling, but he was comfortable out to NBA range and showed some touch on floaters as well. He still had a bear of a time finishing with the paint clogged and he had trouble getting his shot off the bounce. He was a heady player and showed a good eye in drive and dish, though overall it seems like his lack of size will make the NBA an uphill climb. He finished with 4 points (4-4 FT), 5 rebounds and 3 assists in the game, where even with his applying pressure on the US guards, they were able to take advantage of his size to get shots off near the basket.
Kevin Zhang PF China 1999 (6'8.5, 216, 6'9.75 wingspan, 8'8 standing reach)
Zhang was a role player for Montverde this season and for La Lumiere the season prior, netting two High School National Championships. He has a bit of bounce to him, where he made some nice finishes above the rim and even knocked down a few long-range shots in scrimmages. Still, more often than not he was over matched and had a really tough time on defense. He also was slow to react to the ball and his hands were questionable. Zhang committed to Tulane shortly after the game and will be a work in progress, though he has some foundational athleticism and could be a potential stretch threat in time.
Kofi Cockburn C Jamaica 9/1/99
A late addition with the injury to Daniel Oturu, Cockburn is an absolute mountain of a man. He measured at 6'10 without shoes, 289 lbs with a 7'3 wingspan at this summers Nike Elite 100 camp, and the rims took notice. The entire hoop would shake when Cockburn would finish above the rim in drills and his lone open scrimmage. He also had a block off of the backboard that caused similar vibration.
What was most intriguing with Cockburn, however, was his touch he displayed in the mid-range. He stroked a couple 15-footers in scrimmage, along with some powerful finishes near the hoop. In the game, he also had a 17-footer he sank with confidence, as he finished the game with 6 points, 3 rebounds and 2 blocks in a tad over 7 minutes.
Cockburn moves surprisingly well for a big man and has improved a great deal since seeing him at Nike EYBL Los Angeles. His conditioning definitely seemed to be the big issue for him playing even more, as he seemed winded in the scrimmage and was only played in spurts accordingly. He still is a bit of a project, even as an older member of the HS Class of 2019, but he should get high major offers. With his combination of soft touch and major strength on the interior, Cockburn should garner pro interest with continued development.
Daniel Oturu C Nigeria 9/20/99 (6'9, 222, 7'2 wingspan, 9'1 standing reach)
Oturu was sidelined with a shoulder injury during the week, though he measured out well as he will be expected to garner a lot of minutes at the center spot for Minnesota. Oturu was a key member of Howard Pulley, one of the top teams in the EYBL. He excelled as a rim protector, showing some versatility as a defender with some solid agility. He ran the floor well at the EYBL in Los Angeles, and it looks like he should be a solid rim runner and rebounder in college. Would have been a nice change of pace big for the World Team, though should have a chance to play a role for the Golden Gophers next season.
Follow Michael Visenberg on Twitter: @NBADraftMikeyV or feel free to send him an e-mail at: [email protected]