Facing a World Team lacking in depth all around talent, the USA Team had an edge in both talent and camaraderie. Their stifling defense got them out to a 16-0 run, with the World team not getting on the board until 3:09 left in the 1st quarter. They were undermanned and weren't able to pose any type of challenge. In a sign of the times (#curryeffect), this team broke records for attempted and made three pointers, as they shot 14-36 (38.9%). To put this in perspective, the past three US teams were a combined 13-51 (25.5%), and while one player scored more three pointers than recent teams had made in a single game, the team's overall ability was obvious in practices as well.
In 2010 the Nike Hoop Summit USA team had a record 10 out of 11 players go on to get drafted. With the amount of talent on this year's roster, there's an excellent chance that this group of 13 players will produce a new record since the game came to Portland in 2008. With Harry Giles being part of the team for support as he is still recovering from a torn ACL he suffered in early November. With such a talented crop, there's plenty to get excited about for next years college basketball season.
Jayson Tatum SF Duke 1998 (6'8.25 (height in shoes), 204, 6'11 wingspan, 8'10.5 standing reach)
Tatum went through flashes of flat out dominance and set the tone from the jump in the actual game. His footwork is highly advanced, which helps baffle defenders and create space for his shot consistently. He would play the passing lanes without gambling, and showed a lot of tenacity as a defender, leading to easy transition baskets. Another quality that stood out about Tatum is his body control, leading to some great finishes when he is tightly defended or bumped in traffic. His athleticism can be described as smooth, even if he is not as explosive as some of his classmates. He's really improved in his aggresion attacking the rim, and has a great knack for getting to the line, where he hits 80%.
Tatum's handle could stand to tighten up, as he can be a bit loose with the ball. His midrange game is what makes him very intriguing right now with a go-to turnaround J, and he seems to be improving his shot from the perimeter. He scored 14 points with 4 rebounds, 2 assists and 2 steals in only 17 minutes of action. No one was more consistent overall at the Hoop Summit and his maturity should allow him to instantly be one of Duke's next stars, and yet another lottery pick to play for Coach K in Durham.
Terrance Ferguson SG Undecided 1998 (6'7, 186 6'9.5 wingspan, 8'7 standing reach)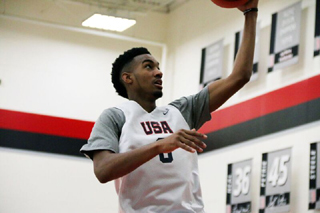 With the closest thing to drama that this contest saw, the World team cut the lead to single digits, as the scoreboard read 22-14 with 7:08 remaining in the 2nd quarter. In Steph Curry-fashion, Ferguson decided to crush the World team's hopes of winning going on one of the most impressive scoring flurries in Hoop Summit history. He knocked down 6 three-pointers (a personal 18-2 run) that gave his team a 40-16 lead at the 3:23 mark. He was clearly the best spot-up shooter during the week as well, with a beautiful stroke, along with tremendous leaping ability and the desire and athleticism to be a pesky defender. In short, he stole the show with 21 points on 7-of-11 three-pointers.
Ferguson certainly possesses the size and athleticism, along with the consistent stroke, to become the highly sought after "3-and-D" wing at the NBA level. While he obviously needs to add strength, he also is pretty limited off of the dribble, preventing him from getting to the FT stripe as much as he should. If he wants to excel at the next level, it will require developing his midrange/driving game and contributing in other areas. His rebounding and passing are also both areas to improve upon. Regardless, his practice and in particular the Hoop Summit game have left a positive impression. While he is heavily tied to Arizona in recruiting, some have brought up possible concerns regarding NCAA eligibility, with a year overseas being seen as an option. At the very least, he has scouts attention after the long range barrage he unleashed during Saturday's game.
Josh Jackson SG/SF Kansas 1997 (6'7.5, 202.6, 6'9.75 wingspan, 8'3 standing reach)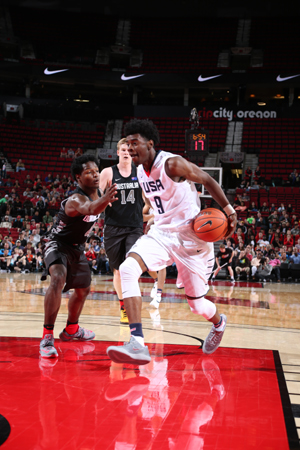 Jackson arrived at the sole practice that NBA scouts and agents were allowed to attend on a Thursday, literally getting into a scrimmage as he stepped off the plane and into the gym. No warm-up, no practice, immediate action. And the results were to be expected, Jackson looked a little rusty and out of rhythm. Regardless, it was apparent that Jackson is a man among boys, with off the charts talent and athleticism. His tenacity and physical gifts allow him to lock opponents down as a defender, and outclass and overpower them for baskets and rebounds.
He was able to dribble through pressure, and at one point he literally grabbed a rebound above the rim, dribbled full court maneuvering through the defense and finish with a two hand dunk. He absolutely has off the charts athleticism and has a swagger, with skills that are rapidly developing. He can take players off the dribble using hesitation and wiggle to get to the rim. And while his shooting form is still in need of improvement, it goes in. He committed to Kansas on Monday and it is hard not to see similarities with 2014 #1 pick and Jayhawk alum, Andrew Wiggins. Wiggins may have had more length and a better shooting form, but Jackson seems to have a better feel for the game and shows better focus and determination. Despite having underwhelming game stats and underperforming in the NBA team practice, there is no debating Jackson's status as the top prospect and most mature kid among the group.
De'Aaron Fox PG Kentucky 1997 (6'3.5, 171, 6'6.25 wingspan, 8'4.5 standing reach)
Fox left scouts with their mouths open at times with his Rondo type speed and quickness. His feet are incredibly quick and he was clearly the fastest straight-line player at the event. He also stifled the World Team's guards with his fright night defense. He also showed explosive leaping ability, was a very willing passer and did some great things in transition. His lefty stroke is streaky, and he had some cold shooting practices and would sometimes take some questionable floaters in traffic. He also can be loose with the ball at times and his lack of muscle may make finishing through contact at the next level somewhat difficult. Beyond strength, his size and quickness at the point clearly standout, as he should devlop into Coach Cal's next point guard phenom. He finished the game with 9 points and 5 assists to just a single turnover in 15 minutes of play.
Markelle Fultz PG Washington 1998 (6'4.75, 186, 6'9 wingspan, 8'6 standing reach)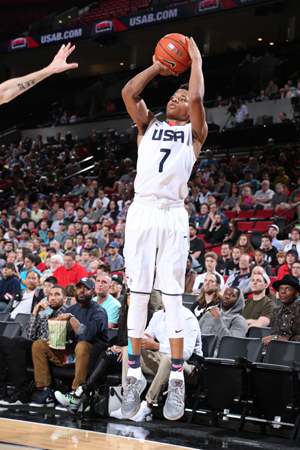 He had already starred in Portland during the Les Schwab Classic in late December, but he showed he could standout even amongst the top guards in the nation this time around. His change of direction and shake moves, makes him particularly difficult to stay in front of. His length and quickness also make him a dangerous defender, as he posted a Hoop Summit record 5 steals. His solid stat line was 11 points, 3 rebounds and 3 assists, which should be a sign of things to come at UW. As a player who had not played varsity until last season, his first-step and ability to make difficult finishes, along with potential as a shooter, have made him one of the truly elite guards in this incredibly deep class.
Marques Bolden C Undecided 1998 (6'11, 250, 7'6 wingspan, 9'4.5 standing reach)
Seeing him through the years, his feel for the game has absolutely improved, as has the ability to score through contact. When he is fully engaged, he is a major force and to think that he can still add strength to his massive frame, could make him an absolute monster down low. He even showed some signs of touch and his size alone will make him a handful defensively on the block. He plans to announce a school in the near future (with both juggernaut recruiting classes Duke and UK heavily in the mix), and whatever coach he goes to having a chance to mold a possible game changer given further refinement and skill development.
Wenyen Gabriel PF Kentucky 1997 (6'9.25, 197.3, 7'1 wingspan, 9'1 standing reach)
In terms of energy, effort and intangibles, this 2015 summer superstar has these qualities in spades. While he is still growing into his body, he runs the floor hard, fights for rebounds and shows that his shot has to be respected in spot-up scenarios. His ball skills are still raw and it is not set in stone that he will have a future on the wing, though he showed some ability to switch as a perimeter defender, which will be a great sign if he plays there at Kentucky. This may be the case the way their roster is shaping up, but Gabriel appears driven and very coachable, and if he gets into the weight room and embraces a strength and training regimen during this summer, he really could make waves.
Jonathan Isaac SF/PF Florida State 1997 (6'10.5, 205, 7'1.5 wingspan, 9'0.5 standing reach)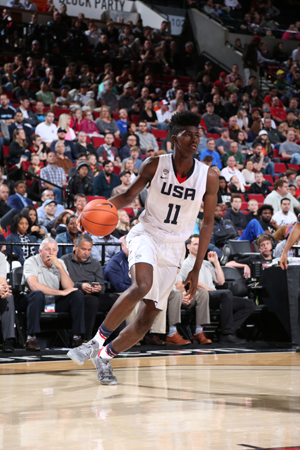 It was amazing to see just how tall Isaac was, along with the skill he possesses at a legit 6'10. He was asked to be more of a stretch 4 than a wing during this week, though he showed signs of ball skills along with the ability to knock shots down from deep. During Wednesday's later practice, when the group had a rough scrimmage with each other, Isaac in particular got rolling with a trio of three pointers. He even showed some perimeter defense and made it very difficult for smaller players to get their shots off. He played a team high 21 minutes, with 7 points, 4 rebounds and two assists, rejecting one shot and altering a number of others. He still has some work to do to be a true 3-man, though his athleticism and shooting ability at his size could make him one of the big risers in the 2017 draft class.
Frank Jackson PG Duke 1998 (6'3.5, 208, 6'6.75 wingspan, 8'2.5 standing reach)
A late addition to the roster once Edrice Adebayo decided to pull out of the game, it was nice to see what Frank brought to the table after his co-MVP performance at the McDonald's All-American Game. His body had definitely filled out since last summer and while he only managed a single point during the game, he was a threat to score from all three levels in practices leading up to Saturday's game. He has college ready strength and some under-the-radar speed and athleticism. He will have the ball in his hands quite a bit next season at Duke, though his ability to play without the ball and score off of the catch will both also work in his favor.
Josh Langford SG Michigan St. 1997 (6'4.75, 200, 6'7.5 wingspan, 8'4 standing reach)
Langford has some scoring ability and toughness that help him get involved as a rebounder. He also played solid defense and while his size is not incredible for a scoring guard, it is adequate. He fouled out of the game in a little under 17 minutes, finishing with five points and 4 rebounds. It will be important for him to extend his range to the three-point line, but he showed nice midrange shooting and an ability to finish under pressure that should make him a pretty immediate rotation player right away, with ability to grow into a larger role in time.
Jarrett Allen C Undecided 1998 (6'10.5, 227, 7'5.5 wingspan, 9'2.5 standing reach)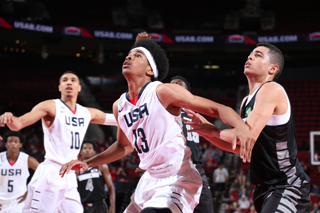 Sporting a throwback afro and a headband in the game, Allen did some very nice things on the block. His demeanor does not always scream "killer", but he has good post footwork, nice hands and he did show some toughness when he got into the paint. While he is still more comfortable with his back-to-the-basket, which is a nice change for most modern centers in the first place, he also seems to show potential with his shot, and even hit a long three at the buzzer to get Team USA to triple digits. 9 points and 9 rebounds were his final totals, with 3 blocks along with a great deal of optimism for whoever lands his services. He has great hands, long arms and once he gains some additional strength, there will not be many better center prospects out there.
Payton Pritchard PG Oregon 1998 (6'2, 202, 6'4 wingspan, 8'0.5 standing reach)
He was a part of the Hoop Summit the past two years as a scrimmage player, joining the Team USA ranks after capping off a high school career that saw him win four state titles and three state player of the year awards. So, for his last big game as an Oregon player, Pritchard went out in style going 4-8 shooting from three, showing his tight handle and hesitation dribble. He lacks the explosive athleticism that his guard counterparts here possess, which is one of the fears as to how he translates to Pac-12 level basketball. His size is not ideal, though he has absolutely filled out and already seems to be much more college ready than the typical PG. Payton is a true competitor and even with teammates above his level, he was able to flourish. The Portland crowd was incredibly excited to see him and while it took him a while to get going, he went out with a very solid showing. Seems to be a good sign for what the future holds.
Follow Michael on Twitter @NBADraftMikeyV. Also, feel free to e-mail him at [email protected]