As we well know, a glitch in the matrix is signified by a déjà vu. And just as the 2014 Jordan Brand Classic National Game reminded of past all-star games in which offense overshadowed defense tenfold, there was indeed a glitch found in the system. Yes, the 100 and 110 field goals attempted by the East and West teams, respectively, caused the box score software to malfunction. The young men pushed it to the limit, as they'd so often heard their coaches tell them to do in the past, and forced triple digit field goal attempts on a system only equipped to handle a more reasonable number of two.
Despite practicing together for a whopping four hours in total prior to Friday's game, both squads were able to gel well enough to put on an impressive offensive performance for the main event at the Barclays Center. The teams shot a combined 58% from the field – impressive, if not elite, for a "regular" non-all-star game. Those in attendance – Tim Hardaway Jr., Fabolous, Amare Stoudemire, the Legend Himself whose silhouette adorned each player's shoe tongues, and even the common folk – experienced an entertaining game as these young men's skills were on full display. The East team defeated the West, 158-147. Here is a player-by-player breakdown of West Team's performance.
Emmanuel Mudiay (Prime Prep, TX/SMU) – If any Jordan Brand All-American had this writer drooling over his pro potential, it was the 6'5" Mudiay. It is easy to group Emmanuel in with other athletic "point guards" who get by at this level due to their physical gifts, but make no mistake about it: Mudiay's feel for the game is very strong. These point guard instincts will only be strengthened next year at SMU, where he will essentially be enduring a point guard boot camp with coaching legend and former pro point guard Larry Brown. Strong, quick, explosive, and controlled enough to draw comparisons to any elite NBA point guard, Mudiay currently projects as the top pick in the 2015 draft. The only real cause for concern for Mudiay stemming from his performance here is that he missed four of his five free throws. His performance was highlighted by one of the more impressive dunks of the year, when he spun off his man to catch an alley-oop, and essentially needed to do a 360 degree turn in mid air to finish the dunk. Emmanuel also showed good creativity off the dribble, side stepping defenders and had some impressive reverse lay up finishes.
Theo Pinson (Wesleyan Christian, NC/UNC) – The athletic and slithery guard was used mostly as a "glue guy" in the game. Pinson, although a capable scorer, found plenty of competition for shot attempts in the backcourt. So he decided he'd be better off sharing the wealth. The future Tar Heel shot 4-5 from the field for 10 points in 16 minutes of action. He also recorded one block and one steal, showing off his versatility on the defensive end, where he has lockdown potential. In other national invite-only events, Pinson had shown great competitiveness and drive, especially when it came to scoring when his team needed a boost. His performance was highlighted by a beautiful follow up dunk off a Stanley Johnson miss just before the halftime buzzer.
Cliff Alexander (Curie, IL/Kansas) – Your 2014 Co-Jordan Brand Classic MVP, ladies and gentlemen! It was clear from the get-go that this junkyard dog-type would be in the running for this most prestigious of awards after scoring 19 points before halftime, mostly on terrifying dunks and shots around the hoop. However he also shot 1-3 from three point range, where he seemed determined to prove he could score from. The future Jayhawk is an absolute load on the low block and has shown improved ability to shoot the midrange jumper. With his ferocity, strength, incredible 7'3"+ wingspan on a sturdy 6'8" frame, and penchant for trying to tear the rim off whenever he has the ball within seven feet of the hoop, Alexander has the tools to become a force, even at the pro level.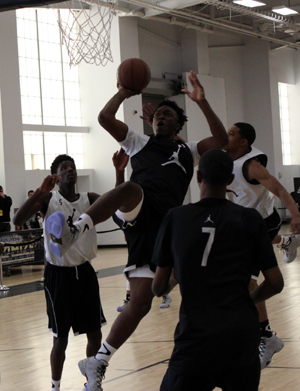 Stanley Johnson (Mater Dei, CA/Arizona) – As reported in the recap of the West Team practice, Stanley Johnson has an NBA-ready body now, reminding of a young Metta World Peace. At 6'6" 225 lbs, he also possesses many of the skills of the former St. John's and Indiana Pacer star, minus the off-court baggage. Actually, those around him rave about Johnson's work ethic and leadership ability. The swingman has won wherever he has played, and takes it personally when his opponent scores on him (you may not have been able to tell in this game specifically, but take our word for it). Johnson was the West's leading scorer, but quietly – as is typical of his games. He rarely forces the issue, has a great basketball IQ, and seems just as content with an assist as a bucket of his own. Shooting 10-18 from the field and 3-5 from three point range without a single turnover, Johnson let the game come to him. Johnson will be taking his talents to Tucson next season, following in the footsteps of former AAU teammate and University of Arizona standout Aaron Gordon.
Daniel Hamilton (St. John Bosco, CA/UConn) – Younger brother of current NBAer Jordan and Isaac who will attend UCLA next season, Daniel made the most of his limited minutes. He scored ten points in just as many minutes, including two three pointers. The long swingman is a versatile scorer, and will play for defending National Champs UCONN next season.
Shaqquan Aaron (Rainier Beach, WA/Louisville) – Aaron is so thin he is nearly two-dimensional. But his multi-dimensional game makes up for what he lacks in girth. In 15 minutes of action, the 6'7" 170 lb. future Lousiville Cardinal dished out three assists to only one turnover, made three steals, and pulled down four rebounds. He also needed only seven shots to score 14 points, which included a three-pointer, free throw, and a series of sneaky finishes at the hoop. It's worth mentioning: Aaron's coach at Rainier Beach High School, the very well respected Mike Bethea, was tasked with leading the West squad in the game. The Seattle pipeline to Louisville continues, as Aaron will follow in the footsteps of Peyton Siva and Terrence Williams and play for coach Pitino next season. Some say Aaron reminds of a 2" shorter Kevin Durant at the same age. Aaron's performance was highlighted by catching an off-the-backboard pass from Justise Winslows for a throwdown in the second half.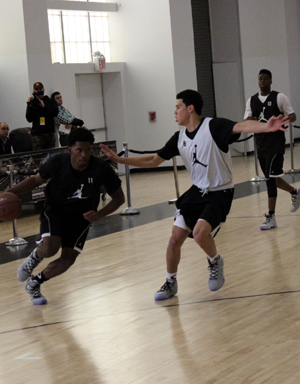 Justise Winslow (St. John's, TX/Duke) – Winslow is physically developed and impressed with his maturity on the court. He stands 6'6" tall and has a very solid build at close to 220 lbs. His skills and demeanor lead some to believe that he may be able to succeed as a point-forward at the next level. However, in the all-star game setting, closed mouths don't get fed. So Winslow had to go out and create for himself. The future Duke Blue Devil took 11 shots, and scored 13 points. He failed to get to the free throw line, but did knock down a three pointer. He was also aggressive on the defensive end, collecting three steals. Winslow is likely to have a nice and long career at Duke, where he should be a "glue guy" type.
D'Angelo Russell (Montverde Academy, FL/Ohio State) – The aggressive 6'4" combo guard looked to make his mark on this game with his trademark quickness and advanced ballhandling skills. While he struggled to put the ball in the basket on his own (1-9 on FGs), Russell assisted five shots while failing to turn the ball over. He also showed nice ability to pull up from mid range off the dribble, something he will likely be doing a lot of next season at Ohio State.
Devin Booker (Moss Point, MS/Kentucky) – In just 13 minutes of game action for the West squad's extremely deep backcourt, Booker feasted at the line, converting on all six of his FT attempts. After really impressing with his athleticism at the JBC practices, Booker did little to put scouts' fears to rest about his ability to create his own shot and translate his athleticism to game situations. Booker struggled to finish contested shots and after contact. At this point he looks to be mainly a spot up shooter offensively next season (albeit a good one), but the physical tools are there to develop into a more athletic game player. The 6'5" future Kentucky Wildcat shot 2-8 from the field, including one three pointer.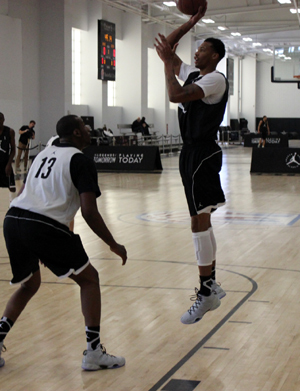 Chris McCullough (IMG Academy/Syracuse) – Oddly enough for a game in which little defense was played, McCullough found himself in foul trouble. In just twelve minutes of game action, McCullough fouled five times. The Bronx, NY native was not especially effective in the game. But he does impress with his physical tools that could make him a special player at the next level and beyond. The long forward has great length and is very quick off his feet with good leaping ability. Many scouts could be heard saying of McCullough, due to his length and athleticism which is typical of an "anchor" in a zone defense, "Is this kid a Boeheim player, or what?!" McCullough will play next season for the Syracuse Orange.
Tyler Ulis (Marian Catholic, IL/Kentucky) – The pint-sized point guard showed that he can compete against the nation's biggest and most talented, height differential be damned. Listed generously at 5'9" and slender, Ulis used his low center of gravity to his advantage, and did a very nice job penetrating and finding teammates after the defense collapsed. Although he has a low release on his shot, he gets it off quick, and he should not have trouble getting shots even at the next level. He is a leader by nature. The future Kentucky Wildcat missed a double double by a narrow margin, recording nine points and nine assists and two steals. He had a few "eyes in the back of his head" moments, setting up teammates nicely when there did not appear to be any passing lanes at all, let alone visible to him.
Kameron Chatman (Columbia Christian, OR/Michigan) – The all-star game setting does not play to 6'8" Chatman's strengths, but the versatile forward still managed to put together a nice performance. He compiled seven points and two assists in eleven minutes on just five field goal attempts. Next season at Michigan there will be plenty of opportunity at the wing/forward positions with the departures of Glenn Robinson III and Nick Stauskas, though he may need to be eased into his seemingly inevitable major role for the Wolverines.
Myles Turner (Trinity, TX/Uncommitted) – DNP. Turner was still hobbled from an ankle injury suffered at the Nike Hoop Summit, so he did not practice or play in the JBC. His college decision is now just days away (April 30th at 4:00). Texas is the current front runner, according to reports, though wither Kansas or SMU would seem to make more sense. The 7-footer shows a lot of talent. He has shot blocking ability on the defensive end, and on offense can stretch to the three point line.
Box score: http://jordanbrandclassic.com/images/stories/docs/2014/2014nationalboxscore.pdf
Practice Notes:
Here are some notes about the prospects on the National Team's West squad and fared at the two two-hour long practice sessions.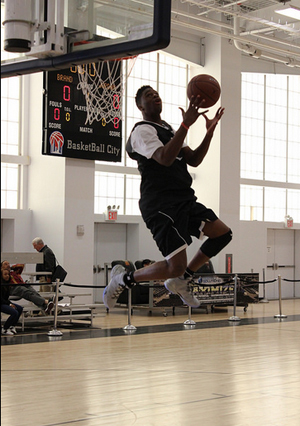 Emmanuel Mudiay (Prime Prep, TX/SMU) — It is no secret that Mudiay is one of this class's prized possessions. Standing 6'5" and 190 lbs, the big point guard is not only an elite level athlete, but also possesses good skills. The ease with which the SMU commit blows past and elevates over defenders is truly special. It was an interesting match up between Mudiay and Tyler Ulis (Marian Catholic, IL/Kentucky), who gave up more than a couple of inches and in the neighborhood of 40 pounds to Mudiay (however Ulis did hold his own). Mudiay treated those in attendance to some sweet throw downs in various spur-of-the-moment dunk contests between drills and showed off his next-level hops. It remains to be seen just how well he will handle coaching legend Larry Brown's point guard bootcamp he will be subjected to next season at SMU. He is working on improving consistency of his shot and of course a high schooler has plenty to learn about running a team at the next level. But Mudiay seems to have a good head on his shoulders and a willingness to learn and reach his full potential.
Justise Winslow (St. John's, TX/Duke) — Versatility is the name of the game for Winslow. He already has something resembling a pro body, and his patience, basketball IQ, and leadership ability are special for someone of his age. The line on the 6'6" 218 lb. future Blue Devil is, "You think maybe can he even play some point guard?" Coach K's answer to that for next season is simple: Tyus Jones (Apple Valley, MN/Duke). But the sentiment does speak to Winslow's advanced skillset, which was on display here. Although he is very strong, he is just good — not spectacular — as an athlete. He is not necessarily known as a shooter, but his stroke looked sweet in the couple of days at practice both in shooting drills and in the scrimmages Overall Winslow is a glue guy and should help set up teammates, and in some instances, finish a play himself in tonight's game.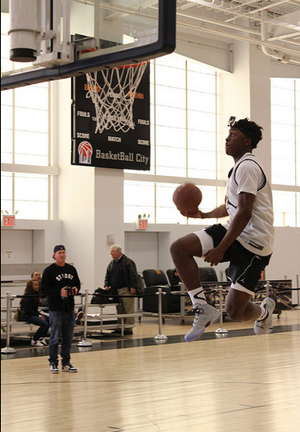 Stanley Johnson (Mater Dei, CA/Arizona) — As opposed to something resembling a pro body, Johnson is a full on, bonafide man. At 6'6" 225 lbs. he draws comparisons to the former Ron Artest due to his knack for defense, ability to move well, especially for someone of his girth, and solid overall floor game (the comparison ends there). You'd like to see him clean up his shooting release a bit, which despite being fairly accurate, is currently a bit of a palm ball that he releases low and far out in front of his body. Overall he has a very mature demeanor, is able to both score and set up his teammates, and has the tools and mindset to be an elite defender. He is regarded as one of the very best in the class. The question is, to which youtube account will his GoPro videos of his dunk-off with West teammate Emmanuel Mudiay be posted?
Cliff Alexander (Curie, IL/Kansas) — Alexander is a horse. He came to practice these past two days with his lunch pail and seemed completely disinterested in jokes and side conversation once he stepped on the court. The 6'9" 240 lb. forward has extremely long arms, quick feet, great strength, and a non-stop motor. If he has the ball within seven feet of the hoop, you better believe he'll be looking to tear the rim down. If you found yourself missing the throwback mean, rebounding, physically intimidating power forwards on the cusp of watching last night's ESPN 30 for 30: Bad Boys, this is your guy. Alexander is relatively new to basketball, having only picked the game up in 8th grade after initially being known as a standout on the gridiron. That being said, his skill level is solid, and he showed the ability to knock down face up jumpers in drills. It was difficult in practice to tell just how much his back to the basket game has improved, as he was generally able to overpower those guarding him in the drills. It's incredible that one city can boast so much talent. And yet again, Chicago natives Alexander and Jahlil Okafor (Whitney Young, IL/Duke and possibly the most impressive player of the practice sessions) will be going toe to toe in the 2014 JBC. Stay tuned, as both players are on game MVP watch.
Chris McCullough (IMG Academy/Syracuse) — Bouncy. Long. Athletic. At 6'10" 220 lbs, McCullough is quite lean and may not fill out much more. But Syracuse got another good one to anchor its zone and run the floor as a big man, likely for at least a couple of years. McCullough gets a ton of air for a player his height, and he gets off the ground quickly. He even showed the ability to knock down the midrange jumper with decent form in drills. The Bronx, NY native who went to school in Florida is a fun player to watch.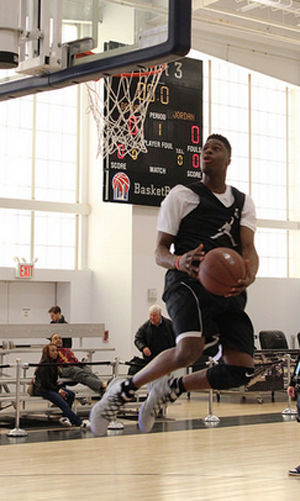 Theo Pinson (Wesleyan Christian, NC/UNC) — You'd be hard pressed to find a minute at the JBC practice where the long and athletic guard wasn't enjoying himself. And why not — life is good for the future Tar Heel. His love for the game is evident and he seemed to have a great relationship with his teammates, joking around with them frequently throughout the sessions. Oddly enough, the 6'6" 190 lb. swingman had been matched up with the forwards (against the likes of 240+ lb. Cliff Alexander and 6'10" Chris McCullough) for a decent amount of time in the practices for low-post drills. It definitely did not play to his strengths. That being said from tip-off to the final buzzer, Pinson balls hard. He is a competitor with a ton of athleticism and scoring ability. Be it with an athletic finish or a blow by beating his man off the dribble, look for him to make a few exciting plays in the game tonight, and many more next season in Chapel Hill. He is a very streaky scorer, and much of that is due to the fact he shows inconsistent form on his jumper and takes some off balance shots.
Tyler Ulis (Marian Catholic, IL/Kentucky) — What a joy it is to watch the only sub-6-footer in the building without a press pass around his neck. Ulis is lightning quick and is able to get where he wants on the court, when he wants. He has a low release on his shot, but he gets away with it due to how quick his release is and the fact that defenders often have to play off of him to avoid getting blown by. Listed generously at 5'9", Ulis has a knack for setting up teammates, and can even take the ball all the way to the rack in the half court.
Devin Booker (Moss Point, MS/Kentucky) — Perhaps the surprise of the day for me was watching the 6'5" shooting guard routinely get his head near the rim as he showed off his little-known hops on various dunk attempts between drills. Known more as a shooter, there were rumblings of Booker potentially not being athletic enough to create his own shot at the next level. While catch-and-shoot certainly looks like a great option for the sniper, Booker showed at practice that he does have some impressive physical tools and may be able to develop into a guy who translates his athleticism to game situations. His jumper is sweet — smooth, consistent, accurate. He works hard, has a good demeanor, and you can tell he really takes the game seriously. Playmaking and dribbling are two areas for improvement for the guard.
Kameron Chatman (Columbia Christian, OR/Michigan), Daniel Hamilton (St. John Bosco, CA/UConn), D'Angelo Russell (Montverde Academy, FL/Ohio State), and Shaqquan Aaron (Rainier Beach, WA/Louisville) round out the West's roster. Chatman is a solid all-around playmaker/glue guy type. Hamilton possesses great length for a wing and is light on his feet. He even showed the ability to knock down jumpers in the practice. The question is how well can he absorb and finish through contact against athletes who are able to keep up with him athletically? Russell is a quick combo guard with the ability to run a team, finish in the lane, and wreak some havoc on defense. Shaqquan Aaron's gifts are on the offensive end, where he is quite versatile. Despite his slight build, he is a strong asset due to his ability to finish or create for teammates.
Myles Turner (Trinity, TX/Uncommitted) — Turner, who is set to make his highly anticipated college decision on April 30, is still nursing an ankle injury he appeared to have suffered in the Nike Hoop Summit. Dressed head-to-toe in Jordan Gear, Turner spent the practices icing his right ankle in style. He is a 7-footer with the ability to knock down the three, and has many scouts drooling due to his potential. Hopefully he is able to stay healthy.