The halftime violinist afforded spectators a few minutes to rest their eyes, and it was much needed. The action on court for the 13th annual Jordan Brand Classic gave a whole new meaning to fast and furious. If this game didn't establish new records for shortest time of possession, it had to be close. With athleticism on display (while defense napped) at the Barclays Center, here are player evaluations for the East squad:
Jahlil Okafor, Duke – 6'11 270 pounds and supremely skilled, Okafor took down Co-MVP honors for the victorious East. He routinely led the fastbreak in JBC practice and whipped out a wicked right to left spin-o-rama during game action. His agility with rock in hand is borderline stunning given his body type. The Chicago native wanted to score every trip down, and no one on the West could (or really attempted to) match his intensity. Most of his buckets were of the simple variety, thanks to Tyus Jones and consistent effort. Okafor threw his weight around on the offensive glass, grasping 6 second chance opportunities with his massive paws. He also recognized a double team early and kicked it to the corner for an open three look. Predominantly a below the rim scorer, Okafor is bothered by length. He does not impact the game in a shot blocking capacity.
Trey Lyles, Kentucky – Calipari-bound Lyles had a really nice showing, hitting 6/8 FG– including a three – and all 4 of his free throws en route to 17 points in 19 minutes. The mobile big looks the part of a formidable pick and roll piece, able to step out with comfort and rolls to the hoop hard. Lyles lacks vertical explosion, but he possesses a strong frame with a 7'0 wingspan and long strides. He's guaranteed to bring a new offensive element to the Kentucky frontcourt. He provided some semblance of defensive resistance in the paint, blocking two shots and grabbing five defensive boards.
Rashad Vaughn, UNLV – Vaughn needs serious work in the shot selection and decision making departments. He took ten shots in 12 minutes and at least a half-dozen of them were poor choices. There's a ton to like about his physical packaging, but boy is he raw in terms of feel. His athletic level drops significantly with the ball in his hand.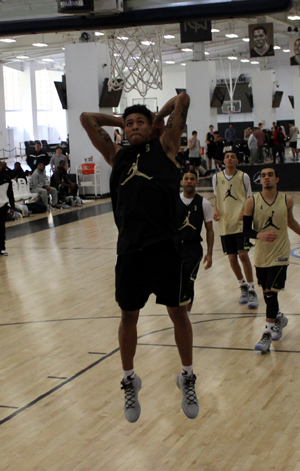 Kelly Oubre, Kansas – A raw product from Findlay Prep with unlimited upside, Oubre is the apple of many a scout's eye. He scored 24 points in 22 minutes, many of which came in the final stanza with defense at an all-time low. Nevertheless, the lefty splashed down on 3/4 three-point attempts (8/11 FG) and displayed positive finishing ability when driving to his left. Lacks a right-hand currently, and turned the ball over six times. He's deceptively strong at 205 lbs. and completed a pair of plays on the interior through contact, comfortably not flailing. With a 7'1 wingspan, freakish leaping ability and clean lateral movements, Oubre can be as good as he wants to be defensively. Questions regarding mindset and effort level will be answered in the Big 12. There is top of the draft potential here.
Justin Jackson, North Carolina –Co-MVP of the McDonald's All-American game, Jackson showed off his versatility in smaller doses in Brooklyn. At 6'8 he brought the ball up the court, casually dribbled to the right wing, and stepped into a trey. He's a bit herky and jerky in his style, but he can handle the rock through traffic and makes excellent use of floaters and short jumpers. Strength and length are concerns at 190 lbs. and 6'10 wingspan respectively. Is he willing to become a factor on the boards? Jackson was held without a defensive rebound in 19 minutes, albeit did grab 3 offensive boards. His natural posture is a bit 'cramped' for lack of a better word. To paraphrase Aran Smith, adding a touch of Oubre's on-court personality to Jackson would bring his game to the next level.
Reid Travis, Stanford – This showcase event was not the optimal stage for Travis, as post isolations were few and far between. A bull at 6'8 240, he carves out space with his wide body. While he was a factor on the o-glass, his 12-point performance was relatively uneventful. Length shortcomings hinder his upside. Travis will be an integral piece of Stanford's paint attack next season with Dwight Powell and Josh Huestis graduating.
Tyus Jones, Duke – Jones played a controlled floor game in a totally chaotic environment. The future Blue Devil never rattled in the face of "do or die" trapping pressure from the West's sizeable guards, beating the press with court vision and dished out 12 assists (2 turnovers) in the process . His rapport with good friend Jahlil Okafor was readily apparent throughout, including a perfectly timed bounce pass from half court through traffic that cracked the highlight reel. The duo was frequently a step ahead of the opposition. His basketball instincts and IQ are pristine, making proper shoot/pass decisions and reading defensive positioning. He's seemingly always in the right place at the right time, grabbing 7 boards at 6'1 despite athletic limitations. Not the quickest or most explosive point guard by any means, but Jones' advanced skill level and feel will give him the advantage most nights. He attempted five field goals and no three-pointers – his jumpshot is not a finished product.
James Blackmon, Indiana – After a quiet Nike Hoops Summit, Blackmon justified his invite with a super-productive Jordan Brand Classic. He scored 23 points on 10/13 shooting— of which very few were gimme opportunities. Renowned for his range stroke (won the All-American game 3-pt contest), Blackmon put on a scoring show inside the arc, making contested layups look easy and dribbling into mid-range jumpers like a vet. Probably a natural two-guard by trade (6'8 wingspan), he ran the offense well (3 assists against 1 turnover) in the absence of Joel Berry. Both Blackmon's scoring feel and adroit ball control were wildly impressive. He'll form a potent backcourt duo with Yogi Ferrell in 2015.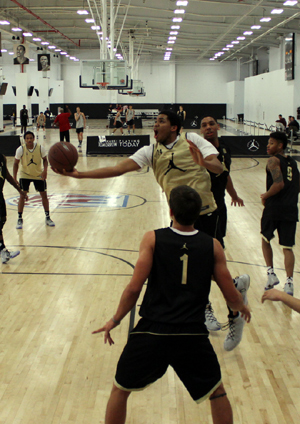 Karl Towns, Kentucky – The 7'0 footer's rare skill level is plainly evident. Towns knocked down a step back three-pointer and dished out three assists. One of his helpers was a jaw dropping behind-the-back, on the money, no look fling following a loose ball. While he's got the inborn feel for basketball, he lacks toughness and his frame is at a definite awkward stage. Watching Towns battle for position against Cliff Alexander was somewhat humorous. You can tell he's going to be a foul magnet early on, picking up four in 15 minutes Saturday night. He did grab 7 rebounds (6 defensive) during his limited action.
LJ Peak, Georgetown – Despite starting the game, Peak played only 12 minutes. A power shooting guard at 6'5 190, he's undoubtedly at his best slashing to the bucket. Peak showed glimpses of explosive finishing ability, but front-rimmed a dunk in the closing seconds in truly embarrassing fashion. He's an interesting get for John Thompson III who favors seasoned guard play. The Hoyas could use an infusion of raw athleticism.
Grayson Allen, Duke – Allen struggled upon first entry, committing three quick turnovers and taking a seat on the bench. He tried to do too much at a pace beyond his means, and against athletic competition of this caliber that will never end well for him. He's not a primary ball handler. Allen eventually settled down into his role – shooting – and played decent minutes.