By Aran Smith
and Borko Popic
6/4/08

The Top 5

Gary
Forbes 6-6 220 SG Massachusetts Sr. —
21.3 ppg, 46% fg, 82% ft
After an impressive performance at Portsmouth, where we awarded
him the MVP, Forbes continued his outstanding play, and put together
another standout week earning another MPV in our eyes. His
21.3 ppg led the camp by a wide margin (over 5 per game) and he;s
the first player we can remember to have 3 standout games. He
was hands down the most aggressive player all week, as he was given
all the freedom and a green light to do whatever he desired. His
scoring repertoire has developed well, as we watched him shoot from
deep with great confidence and increased efficiency, and also take
guys off the dribble with adept ball handling. He has good body
control and can take contact fairly well around the hoop, allowing
him to not only get to the line frequently (27-33 ft) but also convert
on and-ones. An issue we saw with him earlier in the year was his
foot speed and ability to stay in front of people. While he may
never become a lock down defender, he showed some nice potential
to be a contain type of defender. He had a key match up with Wayne
Ellington the first night, and he not only outscored him, but also
took him out the offense on the other end. A problem with Forbes
is that he does not have a specialty, or a go to aspect of the game,
he just does a lot of things well, which may limit him from moving
up into the first round, but a great week should undoubtedly put
him into high 2nd round consideration.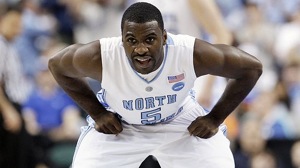 Ty
Lawson 6-0 195 PG UNC So. — 10.0
ppg, 40% fg, 4 ast
Even though he only played one game, nobody's stock came out higher
than Lawson. He had a decent game stat wise, but it was his speed,
quickness and complete dominance of one time first round hopeful
Lester Hudson that probably assured Lawson to be picked in the first
round himself. Defensively he showed that when he puts his mind
to it he can be an absolute disrupter because of his great foot
speed and body strength. His ability to change directions in the
open court, as well as finish around the hoop were all things we
have seen from him before but were still very impressive nonetheless.
A big question mark is his shot. His release is low, which does
not bode well since he is only 5-11, as it will give him great trouble
to get his shot off against taller defenders. There is a need for
PGs, and after the early picks there is not much else to choose
from other than Lawson, as a result he stands an excellent chance
to get into the first round.
Sonny
Weems 6-5 193 SG Arkansas Sr. —
11.0 ppg, 42% fg
One of the better prospects this week, he may not be at the skill
level of some of the other perimeter players at the camp are right
now, but seeing his major recent improvements and adding
in his terrific length and athleticism one cannot help but think
that Weems may become a very good player one day. He has transformed
from just an athlete into a guy who is able to do some crafty things
off the dribble as well as with his shot. He has great elevation
and his release point is so high that it makes his shot virtually
unblockable, and he has also shown that he is more than capable
of knocking it down even under duress. There are question marks
with his consistency as well as his ability to handle the physical
play that he will face at the next level. He could add another 10
pounds of muscle to his frame, but if he continues to develop his
game, he could develop into an impact player in the NBA.
George
Hill 6-2 181 PG IUPUI Jr. —
12.0 ppg, 48% fg, 36% 3p,A
sleeper pick of ours made the most out of his week, showing his
great versatility and outperforming many of the other guards at
camp. His quickness may not be up to top shelf, but he is able to
use a variety of shifty, change of pace moves to create separation
allowing him to either get into the lane or shoot. He is able to
hit long and mid-range jumpers off the dribble under duress and
his crafty ball handling always keeps the defender on his heels
reacting to what he does. His arms are very long and he has nice
wiry strength allowing him to play some very tough defense, frustrating
the opposition into difficult shots and ill-advised turnovers. Decision
making and passing wise he is decent, but not yet ready to be a
serious play maker at the next level. He has a tendency to dribble
too much before getting his team into their sets and sometimes he
also takes too long to set up his one on one moves from the top.
Another concerns with him is an injury that he suffered during his
sophomore year when he broke his foot and there have been talks
that he has been playing with screws in the foot for some time.
As much as this injury hurt him, it also gave him an extra year
of college, so if he feels that he hasn't solidified his name
in the draft he could take another year to increase his stock and
prove that he is worthy of taking.
Mike
Taylor 6-2 166 SG Idaho Stampede Sr.
—
14.0 ppg, 50% fg, 85% ft, 3.3 rpg
Another
early sleeper pick put up a noteworthy performance and as a result
has made some people consider him a serious draft possibility. Our
fear of him being a feast or famine type player came to be realized
when he had an atrocious outing in his last game (going for 17 and
24 in the first two only to slip to 1 in the third). His break neck
style of play is exciting, but at times may not be the most efficient
as it leads to turnovers and terrible shots. He brings a scorer's
mentality in a point guard's body, but even with all that
said, Taylor is still a player that has helped his stock tremendously
this week. His unusually long arms and incredible leaping ability
(he was windmill dunking the ball through his legs in warm ups and
also had a spectacular goal tend in a game) are impressive for a
player at any level. His shot is more streaky than inconsistent
and when he gets it going he is truly difficult to match up with
because his first step forces defenders to play him a few steps
off. He could become a great change of tempo scoring guard off the
bench, where he will not have much responsibility to distribute
the ball or have any significant defensive match up up with. Look
for his name to be called somewhere in the 2nd round.
The Next 5
Wayne
Ellington 6-5 194 SG UNC So.
— 11.7 ppg, 42% fg, 11% 3p,
Ellington struggled to prove that he's ready for the NBA level.
Some felt it was a mistake for him to play in Orlando as there was
more to lose than gain, and without a standout performance it probably
was a bad idea in hindsight. He just couldn't get his 3 point shot
going, finishing 1-9. He also turned the ball over numerous times.
Ellington has a silky jumper and some scouts remain high on him,
but the competition is stiff in this year's first round, and most
scouts we spoke with feel it would be in his best interest to return
to UNC and try his luck in the draft in another year. Ellington
was on fire in the first 10 minutes of game two, but the extended
time sitting out took him out of his rhythm. Even though we prefer
Ellington to Lawson as an NBA prospect, Lawson is the one seen as
having had the better camp and better shot to get into the first
round this year. Although, Ellington's measurements certainly help
his cause as he came out 6-5 with a 6-7 wingspan.
Joey
Dorsey 6-7 265 PF/C Memphis Sr.
— 6.3 ppg, 63% fg, 4.7 rpg, 5 blk
If you're looking for a scoring post player, than Dorsey isn't
your guy, as he may never develop any sort of reliable game from
the blocks. However, that doesn't mean that he cannot be a
vital player at the next level. His athleticism, toughness, work
ethic and on court demeanor are all things that almost any team
would welcome to their organization. He is satisfied doing the dirty
work and contributing in any way necessary in order for his team
to win. Although he is undersized, he is a force to be reckoned
with, both defensively and on glass. He has great energy and speed
allowing him to be in great position against the much slower big
men that he faces, also his anticipation is good enough to allow
him to block a good number of shots from the weakside. Dorsey is
a lock to be taken in the early to mid second round and should get
some looks in the late first round.
Davon
Jefferson 6-6 213 SF USC Fr.
— 10.0 ppg, 57% fg, 3.7 rpg
Depending on how you look it, some consider it was a mistake for
Jefferson to play in Orlando (agent perspective) and others think
that he definitely should have showed up (team perspective) because
he hadn't done enough this year to prove he was a first rounder.
Either way you look at it, Jefferson has done very little to help
his stock and may have actually played himself out of the first
round. He has a very passive mentality and he tends to coast throughout
much of the game. This type of attitude does not mix with the "get
mine" nature of the camp. Jefferson is comfortable getting
his shots in rhythm and never forcing too much, but in a camp where
you don't touch the ball for numerous possessions, it pays to force
the issue. Jefferson, an older freshman, is still learning the in
and outs of the game, but it is easy to see that the athleticism
and natural talent are there. He has a smooth jumper and his range
is expanding very well. He is fairly soft but a lot of that has
to do with his undefined body, which has the potential to fill out
nicely. He is a few years away and could use another year of college,
but it appears he has already burned that bridge by hiring an agent
and so he may have to settle for being a 2nd round pick.
DeVon
Hardin 6-11 235 PF California Sr.
— 10.0 ppg, 44% fg, 10-15 ft, 3.7 rpg
Hardin's lackluster senior campaign was capped off by a so so performance
in the predraft camp. He's chock full of potential, one look at
his muscular frame and his thunderous assaults on the rim are enough
to realize he has loads of upside. The problem is that he is never
is able to turn that potential into any level of consistency and
appears content to make two highlight plays per game and disappears
for the rest. Hardin did a solid job of getting to
the line and using his muscle inside, but outside of dunking the
ball, he showed very little in the way of offense. Although he had
some solid games (8 and 11 in the first two games), he didn't stand
out enough to put his name back into first round consideration.
James
Gist 6-8 220 SF Maryland Sr.
— 9.0 ppg, 39% fg, 7-7 ft, 5.3 rpg
Gist started off like gangbusters with 16 points in his first game
on 5-8 from the floor and 6-6 from the line. Unfortunately he his
a major cold spell from the field going a combined 5-18 in the final
two, averaging just 5.5 in those games. The absence of the team's
top floor general Jamar Butler made things more challenging for
guys like Gist to get buckets. He's a freakish athlete having converted
one of the most spectacular
dunks of the college basketball season and is the type of specimen
that should be able to find a role (poor man's Rodman) in the league
even if his offensive game never vastly improves. Gist should
find a spot in the early-mid second round.


The Next 10
Richard
Hendrix 6-8 250 PF Alabama Jr.
— 10.3 ppg, 62% fg, 6.7 rpg, 2.0 spg
A less than stellar week for the Crimson Tide big man. We were very
high on him after seeing him warm up the first night, but he was
a bit of a let down, never really showing us the complete game that
we felt he could have. His great body and long arms allow him to
create space and grab rebounds in bunches and he is also very aggressive
when attacking the O glass. He showed a nice touch from out to 17
feet, hitting a couple face up jumpers from this area. Yet what
we didn't see all week from him is any reliable post moves,
not once did he get a guy on his back and show that he is able to
score. He never demanded the ball, and seemed satisfied roaming
around the paint not assertively looking to get touches. He seems
stiff in his movements and is very slow and awkward getting up and
down the floor. His conditioning is definitely a factor, although
he appears to have improved on it leaving some doubt about how much
he can improve further. Although his strength and length are positives,
he is undersized as a post player and will struggle to get his shots
off against bigger players. Even though a number of negatives occurred
for him this week, he should still be a lock in the 2nd round as
specimens like him aren't easy to find.
DeMarcus
Nelson 6-2 198 SG Duke Sr. —
16.0 ppg, 47% fg, 88% ft, 3.3 rpg
Was one of the camp's pleasant surprises. He improved as the week
went on displaying both the ability to convert shots from the perimeter
and off the dribble. His 22 points on day two on 8-14 shooting was
his real breakout performance. He also did a solid job defensively
using his quick hands and feet to disrupt opposing guards. Although
he may be under 6-3, he has an enormous wingspan and bigtime leaping
ability allowing him to in essence play like a 6-6 guard. Nelson
should have no trouble getting drafted and stands a good chance
to make a team base on his skills and positive attitude.
Bryce
Taylor 6-4 210 SG Oregon Sr.
— 11.7 ppg, 33% fg, 3-6 3p%, 71% ft
Taylor appeared focused and looked good creating shots for himself.
He matched up with Marcellus Kemp in the first game and got the
upper hand slowing him down defensively and scoring on number of
jumpers and drives to the basket. Despite solid yet unspectacular
statistics and low (33%) shooting numbers, his energy and skill
level made a positive impression on scouts. Overall a solid week
for the Oregon Duck who despite being overshadowed by Malik Hairston
during the year, was more impressive this week in camp. Taylor has
a lot of competition with a number of shooting guards fighting for
the same spots, but stands a good chance of getting drafted after
his performance in camp.
Joe
Crawford 6-4 213 SG Kentucky Sr. — 15.0 ppg, 50% fg, 4-7
3p, 82% ft
Crawford was one of the top performing guards in camp. He showed
excellent ability to use the dribble to get by his defender to the
rim and also knocked down open shots from midrange and beyond the
arc. He's undersized, but has above average athleticism and even
showed some passing ability. He got to the rim off the drive and
finished with some highlight dunks. Coming into the camp, he appeared
as a long shot to be drafted, but now it appears as though he has
a legit chance to hear his name called.
Malik
Hairston 6-5 204 SG Oregon Sr.
— 13.3 ppg, 59% fg, 3.3 apg
In his first game he looked passive and uncomfortable, trying to
get into a rhythm and feel out his teammates. By the time the second
game rolled around he figured things out and proceeded to have a
nice showing for the remainder of the week. His outside shoot is
still a work in progress, but anything inside of the three looks
good for him. His mid-range game is very effective as is his ability
to get to the basket, all thanks to his strength. He does not shy
away from contact, in fact he goes right at it looking to draw the
foul as well as finish the play. In his last game he put together
a good performance, showing all the different ways that he can score.
With Lason going down with an injury, Hairston was asked to bring
the ball up and play some point guard, and he did an admirable job
although he;s obviously not going to be confused with a point. At
6-5, a tough, athletic player, who has some nice skill and is definitely
someone that has the resume to get drafted and potentially do some
things in the near future.
Othello
Hunter 6-8 220 PF Ohio St. Sr.
— 11.3 ppg, 60% fg, 7.3 rpg
Despite a very productive week in the boxscores, Hunter did not
make a great impression with his skill level. His shots came mostly
on put backs and shots around the basket and lacked a high degree
of skill. He's a high flyer and should get drafted based on his
ability to rebound and defend and his raw athletic ability. But
at times he appeared stiff and does not show much in the way of
offensive skills or feel for the game. He's strictly a role guy
as an energy four man, and is effective playing within his skill
set.
Trent
Plaisted 6-10 240 PF/C BYU Jr.
— 5.7 ppg, 50% fg, 83% ft, 3.3 rpg
As is common for bigmen in the draft camp, Plaisted struggled to
get touches. With so many guys fighting the stand out, there just
isn't enough ball movement to get bigmen the ball, so they're left
to their own devices to get baskets off rebounds and often force
shots. He averaged just 5.66 ppg on 4 shots per game. A pathetic
statistic considering Plaisted was the top center prospect in camp.
Plaisted looked very athletic running through drills and kept his
head up despite failing to stand out. His demeanor is very even
keeled, almost too much as you'd like to see a little more emotion
and fire out of him. He displayed an effective hook shot and was
willing to go inside and bang, but for a player some had projected
as a possible first rounder, he failed to raise his stock much.
Drew
Neitzel 6-1 175 PG Michigan State Sr.
— 8.0 ppg, 44% fg, 2.7 apg
A less than stellar senior season, along with a mysterious absence
from Portsmouth definitely did not help Neitzel's stock in
the early Pre-Draft process. However, it seems like he had it all
planned out, and after a good showing in Orlando, he has put his
name into serious consideration. He was able to show his range,
but also good ability to knock down pull ups from midrange with
guys closing out on him. What impressed the most was his nice ability
to get to the basket; he has a wide variety of shot fakes mixed
in with some jerky dribble moves that allows him to get by the defender.
In his second game there was a stretch where he got into a nice
rhythm and you could tell his confidence was high, during this period
he put on an impressive dribbling display: going behind his back
full speed in transition and making great decisions finding open
teammates. His biggest issue (even though he showed some flashes)
is that he is still not a pure point guard, but more so a very undersized
combo. His future will heavily depend on his ability to shoot consistently,
if he can do that, he could become a specialist off the bench in
the league.
Brian
Roberts 6-1 173 PG Dayton Sr.
— 13.7 ppg, 58% fg, 57% 3p, 7-7 ft, 5.0 apg
Roberts is a very interesting player who did some nice things this
week to boost his stock after a stellar 4 year career at Dayton.
He might have the sweetest looking jump shot of anyone that was
in Orlando, and his efficiency with it is just as impressive. He
can shoot the long ball, pull up from mid-range coming off a screen
and even a stop and pop in transition while his defender is still
back pedaling. He has nice quickness, his dribble is tight to his
body and he can incorporate a variety of moves to get into the lane.
For a point guard, he had low assist numbers throughout his time
in college, so naturally we wanted to see his ability to distribute
the ball this week. In the first two games he got caught up in the
scoring game and was looking for his own shot rather than setting
up teammates. However in the final game he went for an impressive
13 points and 13 assists, which was a statement performance. Everyone
knows about his scoring ability, but as a point guard at the next
level, his success will be based on his ability to make good reads
and distribute the ball. An impressive week may have been what the
doctor ordered, as he could possibly be a 2nd rounder.
Richard
Roby 6-5 203 SG Colorado Sr.
— 12.5 ppg, 47% fg
Roby came out of the gates strong with a 14 point 5-8 shooting performance.
He trailed off some as the games went on, but overall had a solid
performance. His jumpshot was a little shaky and he passed up a
few open jumpshots. He was a lot more effective taking the ball
to the basket and finishing or getting to the line. Roby had a solid
senior year after two miserable seasons shooting from the perimeter.
Despite being a senior, he is seen as a player with upside left
to develop but questions linger about his willingness to work at
his game and intensity level.
The Next 20
Jeremy
Pargo 6-2 208 PG Gonzaga Jr.
— 11.7 ppg, 41% fg, 29% 3p, 75% ft, 3.3 rpg, 4.7 apg, 4.7 tog
After a slow start, Pargo had a monster final game with 20 points.
He's a tremendous athlete as he's shown repeatedly with dunks over
opponents throughout his college career. He fought through injuries
this year but saw his numbers dip in the process. This week he struggled
to display great point guard skills, the area of his game that scouts
were most interested in seeing. He should definitely make use of
his senior season, as returning to Gonzaga will give him a much
better chance at sticking with an NBA team. While this may have
been a good opportunity for Pargo to hear what scouts feel he should
work on, you can't help but wonder if this camp did little more
than expose his weaknesses. Pargo's 4.7 turnovers were the most
by anyone and serves as proof that he still has work to do to become
a point guard. While Pargo has the potential to develop into a first
round combo guard next year, he'll need to continue to improve upon
his playmaking ability from the lead guard position.
JR
Giddens 6-5 208 SG New Mexico Sr. — 5.7 ppg, 35% fg, 25%
3p
There seems to be a lot of unwarranted hype around Giddens. While
he's an impressive athlete with an improved shot, his play in camp
was rather ordinary. He was unable to create offense for himself,
and struggled defensively as well. His career has been marred by
off-court issues and though he's shown maturity over the past season
at New Mexico, he remains a wild athlete with a shaky skill set.
He averaged just 5.6 ppg, shot 6-17 from the floor with just 2 total
rebounds in 46 minutes of action, granted he played just 7 minutes
on the second day, but three non-standout performances has his draft
status firmly in the mid-second round, and some scouts feel he could
go undrafted.
Reggie
Williams 6-4 199 SG VMI Sr. —
11.7 ppg, 54% fg, 25% 3p, 3.3 rpg
One of our pre-camp sleeper picks did everything to show that he
is capable of holding his own and proving that his name belongs
in draft talks. Following the camp up with good workouts will put
his name into 2nd round consideration. From the first day it was
evident that Reggie's great feel for the game and court savvy
would translate into any scenario, even if he isn't scoring
as much as he did during his time at VMI. His unselfish approach
is a refreshing thing to see (because so many other players think
they can boost their stock by jacking up shots), although it makes
his stat line less appealing. For the people that evaluate players
on more than just their contribution to a box score, Reggie is the
epitome of a team player and has turned many heads during the week.
He has good athleticism, but it is his incredible wingspan that
allows him to make plays that he has no business making. He is very
poised getting into the lane and he is able to punish the defense
with a feathery soft teardrop, a finish at the basket, or a pinpoint
dish to an open teammate. In his first game he was able to match
up well with JR Giddens, bothering him with his length, and staying
in front of him with his deceptive quickness. There are concerns
about his strength as he looks skinny, he may never be able to add
much bulk, but his game does not rely much on physicality but rather
finesse. He has a nice lefty stroke, with a very smooth release,
but he could add some more consistency to his outside jumper. All
in all, he has definitely moved up the rankings after a solid showing.
Josh
Duncan 6-9 230 PF Xavier Sr.
— 12.3 ppg, 50% fg, 38% 3p, 86% ft
Duncan had his best game in the final when most of the scouts attention
was diverted to the workout only guys as they ran through drills
on the side court. For a 6'9 forward he has an excellent feel for
the game, with good decision making and passing ability. Unfortunately
he lacks the foot speed to play on the perimeter and the necessary
strength to play in the post rendering him position-less for the
NBA level. He should be able to etch out a solid career in Europe
as his style of play and athletic package works ideally there.
Shan
Foster 6-5 195 SG Vanderbilt Sr. — 7.7 ppg, 33% fg, 27% 3p
For the SEC player of the year and one of the nation's top shooters
and scorers, Foster failed to impress. Like Gist, Foster struggled
with the lack of point guard's on Team 1 after Butler went down
with an injury. He has an unorthodox release on his shot, and while
he's highly effective with such a high release point making the
shot difficult to block, he takes longer to get the shot up off
the dribble. If he can find a role as a spot up shooter, he may
be able to grab a roster spot, but based on his play in Orlando
(8ppg, 33fg%), there's no guarantee he'll be selected.
Pat
Calathes 6-10 204 SF St. Joseph's Sr.
—
10.0 ppg, 50% fg, 71% ft
Had a subpar week, didn't do too much to disappoint nor impress
and he sat out the last game with an injury. He has a great feel
for the game and is able to make good reads in transition and in
the half court. His quickness is good and he knows how to use shot
fakes and little jabs to free himself up. The long NBA 3 is giving
him fits (he went 1-3 on the week) and his awkward release seems
to take a lot out of his rhythm which hurts his range. It is always
nice to see a guy being able to handle the ball and pass as well
as he does at 6-10, but that height is almost completely negated
by his weak body and complete lack of post up game. This limits
him to strictly playing on the perimeter where he is not as explosive
as other wing players and lacks the shooting consistency as well.
So instead of having this versatile and multi talented 6-10 player,
he is pretty much a 6-10 small forward lacking the necessary skill
and playing out of position. People are always enamored by tall
wing players and because of that he will probably be drafted, but
Calathes is still a very long way from ever being a rotation worthy
player.
Marcelus
Kemp 6-4 221 SG Nevada Sr.
— 8.0 ppg, 39% fg,
He has not had the best week shooting the ball, but sometimes a
player can still show that he is a quality talent even if the ball
doesn't go in for him. He has an NBA ready body and he looks
a bit like a running back going up the court. His strength is nicely
complemented with a quick first step and a well rounded offensive
game that he is able to utilize from inside and outside. He uses
his broad shoulders well to get defenders out of position as they
try to match up with him on the perimeter and he is also able to
withstand contact while finishing at the hoop. Defensively, because
he does not have great lateral quickness, he tries to be physical
and crowd players to discourage them from attacking. This approach
may work against the physically inferior players he faced at the
camp, unfortunately it will cause him to get beaten without much
effort by the stronger players he will see at the next level. Overall,
he may have had a better camp last season, but he did not hurt himself
at all this week and should find a spot in the 2nd round.
Sasha
Kaun 6-10 247 C Kansas Sr. —
3.0 ppg, 4-7 fg 57% fg
Didn't really show much as far as his offensive game, but
that might be attributed to somewhat of a selfish approach from
the guards on his team. He had good rebounding numbers as he was
fairly aggressive getting on the glass. His mobility and footwork
are above average for a player his size and he is also a decent
athlete. At this point he is strictly looked at as potential for
the future because right now he is just not ready. He is still fairly
new to the game, which means he still has a lot of room to develop.
He did not show well enough to say he will be drafted, but with
big men like him you never know.
Lester
Hudson 6-1 196 PG UT-Martin Jr.
— 8.3 ppg, 41% fg, 11% 3p, 3.3 apg, 2.3 spg
Hudson was one of the big losers of the camp as he came in first
first round aspirations and came out with questions about whether
he will even be selected at all. He got off on the wrong foot with
a match up with Ty Lawson which seemed to rattle him and leave a
lasting impression on scouts minds throughout the camp. He does
show a great deal of quickness and a nose for making steals. He
led all campers with 2.3 steals per game. While he has an extremely
fluid shot off the dribble, his inability to even play a semblance
of point guard severely limits his ability to play at the NBA level.
He also looked much closer to 6-0 1/2 or 6-1 than the 6-3 he had
been listed as.
Sean
Singletary 6-0 184 PG Virginia Sr. —
8.2 ppg, 42% fg, 3.7 apg
His performance was disappointing. He had good spurts every now
and then, but he was not able to sustain a high level of play consistently.
He has height issues that will continue to plague him until he is
able to make shots from the outside, forcing people to play him
honest which will allow him to get into the lane much more frequently.
He is an above average defender who is able to stay in front of
even the quicker guards. A stellar 4 year career for a very good
program is definitely worth something and people should not overlook
him as a possible 2nd rounder.
Charles
Rhodes 6-8 244 PF Miss.St. Sr. —
8.3 ppg, 46% fg, 3.3 rpg
He is an intriguing package with his height, length and athleticism.
It looked like he put on some muscle between Portsmouth and Orlando
and he looked to be in good shape. A big problem with him is that
he prefers shooting 15 footers as opposed to battling on the blocks,
this could be attributed to a minimal back to the basket game. He
is also somewhat of a black hole, whenever the ball gets into his
hands it will take a near miracle for him not to hoist it up immediately.
Defensively, he can use his body well to keep himself in good position
and his length also helps him block shots. Right now he is on the
outside looking in, but will still get his chances at workouts and
probably during summer league play.
L.R.
Mbah a Moute 6-7 230 SF UCLA Jr.
— 7.0 ppg, 50% fg, 50% ft, 4.7 rpg
LRMM struggles to do much on the offensive end because his handle
is fairly weak and his jumpshot is nonexistent. He had open looks
numerous times, but proceeded to miss in every way possible. Offensively,
he is at his best when operating without the ball, playing off his
teammates, making cuts and getting open. He is fairly athletic and
has good length which allows him to finish on some awkward shots,
but if he has to shoot against any sort of contact, the shot is
as good as missed. Most of his damage is done on the defensive end,
where he is able to matchup with a variety of positions and use
his length to disrupt the opposition. His game is not ready for
the big leagues, but he has made his mind up he won't be returning
to UCLA next season.
Russell
Robinson 6-1 196 PG Kansas Sr. —
6.0 ppg, 33% fg, 77% ft
After a great career at Kansas that was capped off with a National
Championship, Robinson will definitely get some looks from the NBA.
He is the ultimate winner, bringing toughness, a hard working mentality
and very gritty defense. Unfortunately, he does not have much to
offer on the offensive end, as his shot is not very reliable and
his blow by ability is limited. While he is very steady and does
not make many mistakes, he also doesn't create very much for
either himself or his teammates. At this point, Robinson looks like
a European player, whose effective college game does not translate
well to the NBA.
James
Mays 6-8 227 PF Clemson Sr. —
9.7 ppg, 65% fg, 58% ft, 3.7 rpg,
Mays is an intriguing physical specimen having played in the event
last year as well. He lacks the upper body strength to be much of
a factor in the post and doesn;t have the foot speed to excel on
the perimeter. He isn't quite active enough to be the energy combo
forward type so it's unlikely that he will find a spot on a roster
out of college. He does have a huge wingspan which helps him make
up for his lack of size (6-8).
Danny
Green 6-6 207 SF North Carolina Jr.
—
9.0 ppg, 40% fg, 17% ft, 3.0 rpg
Green has a nice outside shot but he didn;t show it in the games
as he started off 0-4 in the first game and never was able to fully
get his shot going. He has a good understanding of the game and
plays a scrappy brand of ball, usually making good things happen
when he;s around the ball. Unfortunately he's a below average athlete
and struggles to create off the dribble due to his lack of foot
speed. Green would be best advised to return to UNC for his senior
season or it's unlikely that he would get drafted.
Quan
Prowell 6-8 225 SF Auburn Sr. — 7.7 ppg, 56% fg, 2-3 3p,

Prowell was solid though unspectacular. He runs the floor very well,
he's bouncy and has a long, athletic frame. Unfortunately he wasn't
able to do enough to separate himself from the pack. He showed some
solid flashes with a decent midrange shot and a high motor, but
his skill level and lack of a true position make getting drafted
and making a team a real stretch. He made a splash in Portsmouth
and had a solid showing in Orlando which should translate into a
nice contract overseas.
Robert
Vaden 6-5 199 SG UAB Jr. —
11.0 ppg, 43% fg, 25% ft, 2.3 apg
One of, if not the best shooter this week, he was a bit inconsistent
but showed that if he gets touches he is able to find the bottom
of the net. He has range well beyond the NBA 3, and he is able to
hit shots even with a hand in his face. From the time we saw him
in college to the camp this week, his body has made great progress
and he looks more than ready for the rigors of the big league. He
has a reliable one dribble pull up game going both ways and he can
also do some damage off the pick & roll because he is such a
threat shooting the ball. His one on one game and ability to create
for himself have not shown any significant improvement and he has
major problems trying to get by people off the dribble. Part of
the issue is his loose and weak ball handling, but an even bigger
problem is his lack of quickness and explosiveness. He has problems
when people body him up and get into his legs on the perimeter,
and force him to do something else other than shoot the ball from
deep. Even with these shortcomings, shooters are always at a premium;
as a result he has a real chance of sneaking into the 2nd round.
Ramel
Bradley 6-2 184 PG Kentucky Sr.
— 7.0 ppg, 46% fg, 80% ft, 10 ast, 9 to
Bradley was our one big swing and a miss on our pre-camp sleepers.
Although he struggled to put many points on the board, he did a
solid job of distributing the ball to teammates. The NYC PG has
the physical attributes and toughness to play the position but struggles
with his decision making. He has good quickness to get by his man,
but lacks the ability to shoot consistently from the perimeter.
David
Padgett 6-11 240 C Louisville Sr. –7.0 ppg, 39% fg, 5 rpg
An up and down week for Padgett, but it is still incredible to see
him playing at such a high level after suffering a terrible string
of injuries. Throughout the week he showed his nice touch around
the hoop, as well as his ability to step out and make some shots.
In his last game he was able to display his passing ability as he
found numerous cutters for easy scores. He is fairly mobile and
is a decent athlete, but he doesn't amaze in any particular
thing, as he is more intelligent than gifted. The necessity for
big men is always high and if he can show well in the workouts,
he may be able to get on a training camp roster, although hearing
his name called on draft night is a long shot.

Longar
Longar 6-10 212 PF Oklahoma Sr. —
12.5 ppg, 50% fg, 5.5 rpg
Even though he sat out the 2nd game due to a knee injury, Longar
still had a nice week. His length is always a factor on the defensive
end, as he might not block a large amount of shots but he definitely
alters some coming from the weak side. In his last game he showed
some nice footwork around the basket and converted on a few post
moves. Unfortunately, his post game is still very raw and his thin
frame hurts his ability to do work in the post as well as defend
one-on-one. He should get a summer league invite, but his chances
of ever cracking and NBA roster are fairly slim.
The Rest
Darnell
Jackson 6-8 240 PF Kansas Sr. — 8.7 ppg, 44% fg, 6-7 ft,
4.0 rpg
Jackson was solid but unspectacular. He brings a meat and potatoes,
no frills mentality to playing the post. He had 8, 8 and 10 in his
three games, staying productive without standing out, shooting 10-23
with 4 rpg. His lack of standout athletic ability probably limits
him from making an NBA team, but he has the perfect frame and skill
set to develop into a high level European power forward.
Mark
Tyndale 6-4 217 SG Temple Sr. — 7.3 ppg, 59% fg, 5.0 rpg,
3.7 apg
Tyndale had one of the dunks of the camp going right over 7-foot
David Padgett for a two handed flush which drew some ooohs from
the scouting contingent. Unfortunately his lack of great skill level
was exposed as he does a lot of things well, but nothing great.
He's every bit as good as Sammy Mejia, who was drafted last year
after his performance in Orlando . But unfortunately this is a deeper
draft, and Mejia had no business being drafted in the first place.
Ronald
Steele 6-1 184 PG Alabama Jr. — 3.7 ppg, 33% fg, 4.0 apg,

While Steele had no visible effects from the knee and ankle injuries
that have decimated his past two seasons, he lacks the burst that
he showed during his sophomore year when he went toe to toe with
UCLA guards Farmar and Collison and was even if not quicker than
the two. He no longer has the burst of speed to get around the corner
and really struggles with lateral speed as Drew Neitzel went by
him numerous times at will. Steele struggled to score in the camp
but did a solid job of playing unselfish and racking up assists.
Unless he can shake the cobwebs and vastly improve upon his mobility,
he doesn't have much chance to make it at the NBA level.
Marcus
Dove 6-8 208 SF Oklahoma St. Sr.
— 3.0 ppg, 33% fg, 2-4 3p
Aside from Dove's tremendous physique and defensive capabilities,
he struggled to impress. He knocked down a few outside shots, but
his offensive repertoire is severely limited. He lacks the ability
to handle the ball, and doesn't show anything in the way of passing
or court sense. His raw athletic ability should give him a chance
to move up playing in lower leagues in Europe and give him time
to develop his offensive game.
Maarty
Leunen 6-8 221 SF Oregon Sr. — 7.3 ppg, 40% fg
A consummate team player at the college level who put up very efficient
statistics throughout his career. He has great feel for the game
and plays very unselfishly. Here in camp he did some things well
but nothing extraordinary. His lack of explosiveness off the dribble
makes it difficult for him to create shots for himself. He's not
a good enough shooter to overcome his lack of great speed and athleticism.
He also struggles to contain athletic players due to his slow lateral
speed.
Joseph
Jones 6-8 240 PF Texas A&M Sr. —
9.0 ppg, 53% fg
Jones' hunched shoulders and running motion have drawn comparisons
to that of a 40 year old man at times. He is incapable of getting
up and down the floor in any gear other than first and this leaves
him out of many plays on both ends of the floor. He has good strength
and some decent back to the basket game that allowed him to get
into double digits almost in every game this week. Aside from the
lack of speed and a weak motor, the other problem with him is that
he seems to have peaked in his Freshman season and he shows very
little room for further growth or development. Other than a near
miracle, his chances of playing in the NBA are very distant.
Patrick
Ewing Jr. 6-7 224 SF Georgetown Sr. —
6.7 ppg, 35% fg, 64% ft
After playing very well in the first game, Ewing struggled for the
rest of the camp. The main issue for him is that his skill set and
body do not fit any particular position, as a result he is out of
place both on the perimeter and in the post. He is most effective
when he has no plays called for him, when he uses his nice athleticism
to get points off hustle and scrappy plays. Too many times this
week we have seen him trying to prove that he can shoot the 3, or
that he can take someone off the dribble, but the result was usually
a badly missed shot or even worse a turnover. Watching him play
at times you wonder how much he enjoys the game, which can be a
big problem because it can affect his work ethic and potential to
further develop. His length and athleticism are intriguing, but
at this point he is not ready for the NBA.
Frank
Elegar 6-8 210 PF Drexel Sr.
— 8.7 ppg, 62% fg
A decent showing for Elegar, he nearly scored double digits in all
three games but struggled to do any serious damage on the glass
(except the last game where he had 8). He has good length and is
highly athletic and there is no reason why he shouldn't consistently
be getting close to a double double. He has a spot up jumper from
midrange, and can also do a little bit off the dribble as well as
some moves in the post, but nothing consistent where he forces the
other team to pay much attention to him. He moves well and is active
but really lacks any particular skill that can put him in a particular
position on the floor. He
has some mechanical issues with his shot, as seen when he was forced
to shoot from 3 in the shooting drills, but his role is really making
things happen in around the basket.His physical package
is intriguing and if he keeps developing he may get a chance to
crack the NBA, but at this point he is better suited for the D-League
or for overseas.
Kentrell
Gransberry 6-8 290 PF/C S.Florida Sr.
— 4.0 ppg, 56% fg
"Michelin man" and "Pillsbury dough boy" jokes
aside, Gransberry shows excellent touch around the basket and is
virtually impossible to stop if he receives the ball with position
on his man. Unfortunately, his lack of mobility is a major problem
for him as he lacks the foot speed to defend as well as get out
in transition. Unlike fellow wide body Glen Davis, Gransberry just
can't move well enough to use his strength advantage in the paint.
Deron
Washington 6-6 198 SF Va. Tech Sr. —
5.7 ppg, 30% fg, 42% ft
If your are impressed with high flying putback dunks and other flashes
of athleticism, they you will enjoy watching Washington play. Unfortunately,
the requirements for a dunk contest and the NBA are much different,
and Deron has not shown much of any significant skill to allow him
to get a chance at the league. His frame is way to skinny and it
shows when he is thrown off balance by even the slightest contact.
He dribbles the ball way too high and also cups it every time he
brings it off the ground, making him easy pickings as he's
trying to make a move. His shooting form is not bad, but the result
is less than adequate, allowing people to play off of him completely
negating his athleticism. The great potential that he showed during
his freshman season has disappeared, as his game has made no major
improvements. He is nowhere near the NBA level and with a lack of
any refined aspect of the game, he may struggle to stick in some
of the European leagues.
Aleks
Maric 6-11 273 C Nebraska Sr.
— 4.0 ppg 36% fg
Maric was exhibit E on how the NBA struggles to fill out the draft
camp's bigmen. He has solid strength and a decent jumpshot, but
his mobility and athleticism is about 5 levels below that of the
NBA. He had a solid second game with 8 points on 4-6 shooting, but
nothing to write home about. Look for Maric to find a spot overseas
in a mid level league.
Keith
Brumbaugh 6-9 190 SG/SF Juco So. —
6.0 ppg, 35% fg
His intrigue was based on the fact that he was an All American out
of High School, he put up big numbers in JUCO and maybe most importantly
not many people have seen him play in the last few years. It may
be harsh to say, but that intrigue went out the door the moment
we saw his game and demeanor on the floor. He is a good 6-8 and
plays with a decent amount of energy, but his body is very thin
and has a habit of shooting terrible off balance shots. Watching
him play, you can tell after not getting touches on a few possessions,
the next time he gets his hands on the ball it is going up no matter
where he is on the court and how many defenders are around him.
His shot is almost two handed and the ball has a very awkward side
spin, combining that with the tough shots he takes, it is fairly
easy to see why he struggles to find the hole. Brumbaugh's
game is surely not ready and it may never be. He is in a difficult
situation since JUCO players that declare early have no option of
going back to school, so it will be interesting to see where his
career path goes next.
Stanley
Burrell 6-3 201 PG/SG Xavier Sr.
— 5.3 ppg, 33% fg, 9 ast, 9 to
Burrell is the guard equivalent of Marcus Dove. Aside from his tremendous
defensive ability, he is below average in nearly every skill. He
doesn;t shoot well and is essentially an undersized 2-gaurd. While
he competes hard, and has a tremendous body, his ability to play
at the NBA level is highly suspect.
Jamar
Butler 6-1 182 PG Ohio State Sr. — N/A
Bulter picked a terrible time to sustain an injury as he was unable
to go in any of the games after briefly working out on the first
night. Butler was very impressive in Portsmouth and is a highly
effective point guard though likely undersized and not quick enough
to make it at the NBA level. Look for him to get an invite to play
during summer league and ultimately have a solid career in Europe.
John
Riek 7-0 237 C Sudan HSSr.
— N/A
Riek was a mess from the instant he stepped on the floor. His leg
injury made running the floor nearly impossible for him and his
chances of getting drafted appear to be slim to none. His great
length has no advantage to him if he can;t get up and down the floor,
much less bang inside with opponents. If he pulls out of the draft
and finds a smaller Div 1 school, he can take some time to grow
into his body and work on his skills. Otherwise it's a fair assumption
that he will fall far short of a lucrative career in basketball.
Chris
Daniels 6-9 256 C Texas A&M CC Sr.
— 5.7 ppg, 35% fg,
While Daniels showed off his exceptional touch for a bigman, he
also showed a far below standard level of speed and athleticism.
His touch helped him to stay respectable on the boxscores, but that
wouldn't be a very accurate way of describing his mobility on the
floor. Daniels doesn't have much chance to get drafted or make a
team as he lacks a toned body and appears lazy. His foot speed and
leaping ability make the NBA a long shot for him and
measuring 6-9 instead of the 7-0 he was listed at make his NBA chances
far less.
Shawn
James 6-9 217 PF Duquesne Jr.
— 3.5 ppg, 40% fg, 3.0 rpg
He has unreal length and moves fairly well, but his game and body
are just not good enough to allow him to play at this level. He
works hard and tries to battle, but a very skinny frame hurts him
greatly while trying to bang with the more physical players. The
huge wingspan he implores which helped him block so many shots in
college didn't seem so impressive here against better athletes than
he's familiar playing against in the A10. He is simply a roamer
on offense and lacks any sort of moves to create for himself. Another
year of school might have helped, but he is older, has signed an
agent already and probably a European hopeful regardless.
Kyle
Hines 6-5 234 SF/PF NC Greensboro Jr.
— 4.3 ppg, 46% fg, 6.7 rpg
Hines was an interesting experiment. He's a 6-6 power forward who
because of his size was turned into a wing player in the camp. The
experiment turned out terribly, as Hines struggles to do anything
in camp on the perimeter. He was succesful crashing the boards ending
up one of the team leaders in rebounds. He should be a decent power
forward overseas, but is just too small to play inside or do anything
on the perimeter for the NBA level.
Vladimir
Golubovic 7-0 258 C Ser. 1986 —
6.3 ppg, 40% fg
The lone international did not have the friendliest welcome to America
and he may be wondering if it was a mistake that he showed up. The
only positives that we saw were decent height and strength and also
a right shoulder spin move in the post. His body and movements are
very rigid and he almost seems robotic when he tries to move. His
post game is strictly limited to a right handed hook which has bad
trajectory and rarely finds it way into the hoop. When he attempts
any sort of complex move on the block he is easily thrown off balance
as his footwork is subpar. This week was a good chance for the Serbian
to see where he is in terms of his NBA potential and it may just
be the closest he will ever get to the league.
Brian
Butch 6-11 230 PF/C Wisconsin Sr. —
8.7 ppg, 32% fg
A long distance shooting big man who is effective knocking down
open jumpers. He stretches the defense well forcing the opposing
big men to play him on the perimeter as his range is good out to
the NBA 3. However, other than his shooting game, he is not capable
of doing much else at this level. His back to the basket game is
nonexistent and he almost never steps a foot into the paint in fear
that he might actually feel some contact. He runs the floor fairly
well, but just does not have much presence on either end of the
floor to warrant any serious looks for the NBA. Shooting big men
are dime a dozen in Europe so finding a spot in one of the more
respectable leagues overseas may be a problem for him. He might
need to look further East, or maybe some of the lower level Euro
leagues.
Jiri
Hubalek 6-11 226 PF Iowa St. Sr. —
8.3 ppg, 41% fg
Hubalek parlayed a strong performance in Portsmouth into an invite
to Orlando. While he was completely overwhelmed athletically, his
outside shooting ability kept him somewhat productive in the games
(6 ppg, 8-22 fg). He's got a European style of game with his preference
to face the basket and knock down shots from the perimeter. Defensively
he gets overpowered pretty easily, and doesn't fare too well in
the paint as his leaping ability is well below average. The predraft
camp selection committee has a tough time filling out the roster's
bigmen, hence guys like Hubalek get an invite.
Tyrone
Brazelton 5-11 166 PG W.Kentucky Sr.
— 5.3 ppg, 56% fg, 83% ft, 4 ast, 6 to
Despite a strong showing in the NCAA tournament against Darren Collison,
his train came to a screeching halt in Orlando. He lacks the size
and was completely outclassed by the point guards he faced here.
He shot the ball fairly well but failed to make much of a mark offensively
and struggled to create for others and show point guard skills.
His speed should give him a shot at lower level leagues in Europe.

Shaun Pruitt 6-9 242 PF/C Illinois Sr.
— 4.0 ppg, 33% fg, p rpg
Pruitt was the top rebounder in camp at 9.0 per game but was not
able to show much else as far as his overall game. His game is dependent
on force, but going up against more athletic players his offensive
game looked undeveloped and he was not able to score (tallying 12
pts in 3 games). At Portsmouth he looked out of shape and while
he seemed a bit better in Orlando, he was still nowhere near the
level he needed to be at. His performance this week completely takes
out any possibility of him getting drafted.
Takais
Brown 6-8 252 PF Georgia Sr.
— 4.7 ppg, 56% fg
Brown is a hard nosed bigman with good strength inside, however
his lack of athleticism and foot speed severely limits his ability
to make plays on both ends of the floor. Offensively he lacks much
touch or post moves. He relies on his strength to make plays, but
against better athletes this results in limited effectiveness. He
has already played in Europe (Finland) and that appears to be a
good place for him to continue his playing career.