By Borko Popic
6/1/08
 The final day brought a change of scenery to the gym. Although there were still three games being played, everyone's attention was averted to the action occurring on the side courts and rightly so because the Top 15 (measurement only) guys were going through workouts (with the respective teams they were placed on), while waiting for their measurements.
Much talk was going on in regards to Beasley's actual height; while he is listed at 6-9, some believe he might only be 6-7 (without shoes).
This lack of size could adversely affect his draft status as he is considered more of a 4 by some and could struggle to fit a position to a degree without the height to measure up.
The workouts consisted of some full court shooting drills, moved on to dribble attack moves with finishes at the basket, floaters in the lane or pullups from midrange for the guards, and some flashes, cuts, post moves, and moves out of the triple threat for the bigs.
The last thing the guards did was cone shooting from 5 spots simulating coming off screens. It is pointless to put too much significance onto these workouts, as they really only show shooting form and the players' athletic ability, but it was still nice to see these guys in action.
Derrick Rose looked great getting up and down the court, he showed some of his explosiveness on a few finishes (as pictured) and handled the ball very well on dribble moves. In the shooting drills he was decent, but looking at his form it is no secret that he still has ways to go before becoming a consistent shooter.
As he brings the ball into the shooting pocket, he holds it too close to his head, shooting it almost right off of his forehead. Another problem is that his elbow is not under the ball, but rather to the side, which may cause some problems with consistency and effectiveness shooting the long ball.
Michael Beasley had a decent workout, not really shooting the ball or impressing too much in any of the other drills. He seemed more interested in talking to the media and his fellow draftees rather than showing what he can actually to in front of the NBA brass.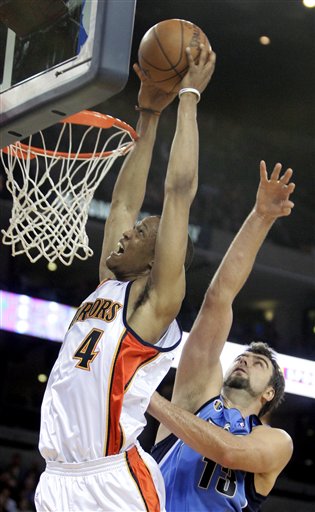 Anthony Randolph was sporting a long sleeved shirt, which may be a display of his formidable fashion sense, but more likely a good way of concealing his rail thin frame. As expected, his wingspan and athleticism were on full display as he was able to finish in emphatic fashion. His jump shot was off, but his form and release are pretty much textbook.
Jerryd Bayless went through the workout fairly well and didn't shoot the ball too bad. There has been some mention of his shooting mechanics being flawed and there's no better time to see than when he is shooting from beyond the NBA 3. His pre-shot stance is balanced, elevation and release point are good, but as he follows through, instead of having his arm just stay there for a second (ala MJ vs. Bryon Russell) he pulls it back almost immediately after the ball leaves his fingertips. He also shoots a bit of a fadeaway every time, with his body going backward, which leaves him offbalance and short on some of the shots.
Donte Green looked skinny, but has strong legs and a frame that has potential to fill out and become very refined. He was pretty impressive finishing at the rim and it is always exciting to see a player of his size handling the ball and shooting a very smooth jump-shot.
Russel Westbrook didn't disappoint with his high flying array of moves and showed a much improved jump shot which he converted at a great percentage.
JaVale McGee seems to have put on a little weight, but with his incredible length it is hard to not look skinny. He looked a bit uncomfortable, struggling to finish some near the basket shots. The rim rejected a few of his dunk attempts and in order to get even he decided to punish it by shooting numerous bricks. All in all, he is still very intriguing and if he's put in the right system and given time to develop he could become a very effective player in the NBA.
Brook Lopez looked awkward running the floor, he has some very stiff legs and at times he had people in the crowd worried he might get hurt by continuing to run in this manner. The rest of his workout was nothing out of the ordinary as he did little to impress or hurt his stock.
We received word that Donte Greene was able to lift 185 just once, which considering his lack of upperbody bulk is not surprising. How much this will hurt Greene is probably minimal as Greene is considered a long term potential pick anyway.
Kevin Love was said to measure 6-8 1/4 (without shoes), which considering his lack of great athleticism is not a great result.
Although the games were less watched than usual, let's not forget that this was still a chance for some guys to show that they have what it takes to get drafted.
Game #7
Team 2 (2-1) 77 – Team 3 (0-3) 73
Talk of the camp continues to be Gary Forbes (17pts, 4 reb, 4-11fg), while he didn't have the same scoring game as the previous night, he still played aggressively and got to the line 10 times. Forbes seems to be a personal favorite of the referees, as looking at him the wrong way is considered a foul.
DeMarcus Nelson (13pts, 4 reb) continued to play well showing a bit of his outside range mixed in with some nice drives to the hoop.
Stanley Burell (7pts, 6ast, 4 reb) did a bit of everything, filling up a few categories, unfortunately one of them was turnovers (he had 5).
James Mays (10pts, 6reb) was finally able to break through and put together a decent performance after being disappointing week.
Longar Longar (15pts, 6 rebs) came back nicely from his injury even showed some nice footwork and coordination on a couple post moves.
David Padgett (11pts, 6 reb, 4ast) showed some nice moves in the post, but was also able to make some nifty passes to open teammates.
JR Giddens (9 pts) was much more aggressive today after sitting out a big part of yesterday's game. He was able to come off screens and show his nice looking jump-shot.
Richard Hendrix (8pts, 7rebs) was plagued by foul trouble, but was still able to have a decent game in limited action.
Game #8
Team 6 (3-0) 87 – Team 1 78 (0-3)
 George Hill (15pts, 6ast, 8reb) came back well after an off day, leading his team to a victory, he showed that his versatility is difficult to match up with on offense and his defense can alter plays on the other end.
After exploding yesterday, Mike Taylor (1pt, 0-6fg, 4TO) came back to earth with an inconsistent performance. Many times his gift becomes his curse, his reckless style seems to be a turnover waiting to happen (he averaged 3.4 this season) and he does not seem to have his team's best interest at heart as he becomes immersed in his showboat act.
Davon Jefferson (16pts, 6-9fg) was finally able to have an above average game, proving that his body in fact is not made of feathers and that he is actually willing to use his athletic prowess to get to the hoop and take some contact.
Joe Crawford (11pts) has become a regular member of this worthy report and rightly so with his impressive play throughout the week.
Tyrone Brazelton (11pts, 4-5fg) showed that it was not a mistake to invite him and that he did belong here by having a pretty decent performance.
Wayne Ellington (10pts, 4-10fg) has not been able to find his grove for most of the week and not much was different in his final game.
Game #9
Team 4 (3-0) 105 – Team 5 (1-2) 92
Brian Roberts (13pts, 13 ast) had an impressive game as a result he is the recipient of our player of the day award. We had questions about his ability to distribute the ball but with such an efficient performance, some of those questions have been answered.
After a shaky start, Jeremy Pargo (20pts, 4ast) has come on strong to finish the camp. He was able to use his speed in the open court and dribble penetration in the half court to go by people. A big problem has been his decision making and trying to do too much, we saw that again today to the tune of 6 turnovers.
Reggie Williams (13pts) continued to showcase his versatility and nice scoring touch. The lefty wing has put his name on the map and into the minds of basketball GMs as a worthy prospect.
Malik Hairston (20 pts, 4 ast, 2 stl) capped off a nice week with a good scoring game, he may be a little undersized but he knows how to get the best of his ability.
Sonny Weems (16 pts, 3 reb), even though not scoring off the charts, has been impressive the whole week. Today, he was able to put it all together and show that he has some bake to his shake. We were worried that his impressive moves would continue to be endless misses, but he proved otherwise today.
Waiting for a highlight play from Josh Duncan (13 pts, 4 reb) is like waiting for back to back championships from the San Antonio Spurs, it just doesn't happen. However, he is able to consistently put together good games and is the type of glue guy that every team needs. One again Ty Lawson didn't play and this time he was joined by an ailing Pat Calathes, who's body has to come under question with his ability to make it through all three games.