By Aran Smith & Borko Popic
5/29/08
Game 1
Team Six (Blue) 75 – Team Five (White) 70
Blue
Mike Taylor (17pts, 6-10fg, 3rebs) From the start, Taylor was in full attack mode, never letting up and constantly probing the defense to get to the hoop. His speed and ability to change direction posed numerous problems for the opposition and he was able to convert on some very nice drives. With the game on the line, Taylor stepped up big, converting on a tough floater in the lane that ended up sealing the game. Main concerns with him are his size/position, as well as a hitch in his jumpshot that limits his ability to shoot from long range.
George Hill (14pts, 2ast, 2stl) Hill has more of laid back game than Taylor, but just as effective nonetheless. While it is hard to pinpoint a specific aspect of his game where he excels, he is very good in a number of areas. He showed nice handles, ability to get by people and even nice range that extends to the NBA 3. The one thing that stands out most in his game is probably his defense, where he is very aggressive, putting a lot of pressure on the ballhandler and disrupting the passing lanes with his nice wingspan. He is always in good position and is willing to sacrifice his body, as a result he was able to draw two very nice charges.
Joey Dorsey (7pts, 4rebs, 3ast) Dorsey showed his usual aggressiveness defensively in the post. Offensively, he seems to have an improved game around the basket, where he was able to catch difficult passes, and covert on some back to the basket moves.
Davon Jefferson (7pts, 6rebs, 3ast) In the early going it seemed as if Jefferson may have made a mistake showing up this week, as he was almost non-existent. Although his performance was still not spectacular, he was able to salvage the day as he put up a decent 10 minutes together to finish the game off. His offensive skill is still in need of much work, but one cannot deny his terrific frame, and explosiveness.
LR Mbah Moute (9pts, 5rebs) He seemed to have tweaked his ankle in the early going, but showed some character fighting through and still put up a decent performance. With his length and athleticism, he is always able to alter plays defensively, and convert on hustle baskets offensively.
Sean Singletary (2pts, 2stls) Had a quiet day, and was not much of a factor on the offensive end. Defensively he is very aggressive and he showed nice footspeed while containing people off the dribble.
Brian Butch (10pts, 6rebs) His game is based around the perimeter and rightly so because he has very little except a nice jumpshot.
Joseph Jones (7pts, 3rebs) May have peaked after his freshman season, his inability to get up and down the floor hurts his chances of competing.
Marcelus Kemp (1-7fg, 2pts) If looks could kill… Has come in great shape, and has a nicely defined body, unfortunately those factors did not result in a good day. He struggled shooting the ball and did little else.
Shaun Pruitt (0-5, 0pts, 7rebs) Not much was expected from Pruitt coming in, and he did little to change people's minds.
White
Although they lost a close battle to Team Six, Richard Roby, Othello Hunter and Bryce Taylor were the bright spots for team five.
Bryce Taylor showed some of the assertiveness offensively that was lacking this year at Oregon. He aggressively attacked the basket getting to the line 4 times and finished with 10 points on 3-8 shooting. He also matched up with Willie Kemp holding the Nevada standout to 2 points on 1-7 shooting.
Othello Hunter somehow found a way to have the dunk of the game despite DeVon Hardin's assault on the rims. Hunter's reverse ally oop finish was the highlight of this game and maybe the most athletic play of the day. He was a highly effective 6-7 from the floor and finished with 13 points.
Richard Roby was once upon a time seen as a great shooter, after two dismal shooting seasons he's now seen as an above average shooter. He passed up a few open looks but was effective driving and getting to the line. His game high 14 points came on an effective 5-8 from the floor.
Devon Hardin had three thunderous dunks but struggled to display any touch or post skills. As impressive a physical specimen as he is, he appears to be a big tease, a player who gives the impression that he can become a force, but lacking the focus and direction to get there.
Jeremy Pargo had to be wondering what he was doing here with his performance in Day One. He struggled to show much in the way of point guard skills and his forte scoring wasn't happening either. He finished with four points on a dreadful 1-6 shooting performance in less than 14 minutes of action.
Ramel Bradley was equally frustrated with just 3 points and as many turnovers. The three point guard rotation along with himself, Pargo and Brazelton limited all three to limited stats in limited minutes.
Tyrone Brazelton was the third cog in the point guard rotation. He led the bunch with four turnovers and had just 3 points on 1-4 shooting. It was frustration all around for this group.
Kyle Hines who is more of an undersized power forward is being played at the wing position, and he;s finding it extremely difficult. His O-fer in 13 minutes of action is proof. He did provide 5 fouls, but didn't show much in the way of perimeter skills.
Josh Duncan made some nice passes, displaying some of the court sense and team skills lacking from DeVon Hardin's game. If you could somehow combine these two players best attributes you'd easily have a lottery pick. Unfortunately, Duncan lacks the athleticism and strength meaning that he's stuck between positions and likely a European level player.
Danny Green appeared to twist his ankle before the game, but it didn't have much effect on his usual mobility level. He gritted out some baskets, but overall struggled to get by more athletic opponents. He also struggled shooting 0-4 from downtown.
John Riek did not play due to the afore mentioned leg injury. He had a tibia ligament strain and it i unclear whether he will return to camp.
Game 2
Team Two (Blue) 90 – Team One (White) 85
Gary Forbes (17pts, 6-10fg, 3ast) Forbes had his complete game on display today. Matching up with Wayne Ellington, he definitely came out with the upper hand. He was able to get into the lane, either finishing with a nifty move, or getting to the foul line. Although he was the focal point of the offense, he was still very unselfish, setting up teammates on numerous drive & dishes. The big question with Forbes has always been his explosiveness, but today he seemed very quick, moving his feet well, and staying in front of the frustrated Ellington.
Richard Hendrix (12pts, 5rebs) Showed a nice touch from about 15 feet, facing up from the high post and using the glass. He was aggressive both defensively and on the offensive boards, where he can use his frame to clear space. Although the game play is guard dominated at camp, one would still like to see Hendrix demand the ball in the post and show some moves with his back to the basket. He does have great strength and athleticism, however, there is some concern about his actual height.
Robert Vaden (13pts, 6-11fg) To along with a revamped body, he put a nice performance together in his first outing. Doing most of his damage in the first half, Vaden made some difficult outside shots, showing a tremendous range. Coming off screens and in spot up situations, Vaden is an assassin because he can get his feet set, and convert on a high percentage of his shots. Where he struggles is when people get physical with him and force him to put the ball on the floor. His is not comfortable handling the ball and often gets out of control when making moves to get to the basket.
Patrick Ewing (14pts, 5-7fg) With Ewing Sr. in attendance, the younger Ewing put in a decent game. He was able to convert on a number of open jumpers and showed some nice athleticism, but his overall skill set has glaring holes and he does not have a natural position on the floor.
Drew Neitzel (9pts) He was able to combine his shooting touch with some jerky moves to get to the basket. He is definitely undersized, and is more of a scorer than distributor, but his touch and deceptive quickness are definitely things to keep an eye on.
Longar Longar (10 pts, 5rebs) His length and athleticism are factors and he is able to get some garbage points around the hoop. Unfortunately, he is very weak and has limited basketball skill.
Deron Washington (4pts, 3rebs) His nice athleticism was on display, but not much else. His inability to do anything in a half court set continues to haunt him.
Russell Robinson (6pts) Looked very passive and the few open shots that he did take did not go down for him. He is steady, but lacks the explosiveness to create his own shot.
Shawn James (3pts, 4rebs) He is very long and has a fairly fluid release on his jump shot, but he is too weak and looks somewhat out of place.
David Padgett (2pts, 1-5fg) Struggled shooting the ball, was in foul trouble and turned the ball over…not the recipe for success.
White
James Gist displayed his tremendous athleticism with a reverse jam in which he was fouled and missed, followed by a nearly identical reverse dunk in which he was able to covert. He also showed a mid range game knocking down a number of 12-15 foot jumpers. And while he still needs to add consistency to his shot, there's some reason for optimism about his offensive game. Gist could be this year's Renaldo Balkman, a guy who came in without much hype and could establish himself as a highly sought after athletic specimen.
oe Crawford was one of the big surprises of Day One. His 19 points were the high point total on the day. Crawford was able to use his quick first step to get by his man and to the rim. He also knocked down 2-3 from 3 showing the ability to pull up off the dribble from distance. Crawford appears on his way to claiming a spot in the second round if he can keep up his quality play.
Quan Prowell has been impressive shooting from outside and running the floor. While his five points don;t stand out, he had a solid showing.
Kentrell Gransberry, "The Michelin Man" is a force around the basket with solid touch and tremendous strength, Unfortunately he struggles in transition and aside from using his girth does not possess a vast array of offensive moves. He had a solid 8 points on 3-6 shooting.
Mark Tyndale was a bright spot. He didn't stand out statistically with just 9 points but had one excellent drive and two handed flush over Sasha Kaun. His length gives him an edge defensively and on the boards.
Wayne Ellington was one of the day's big disappointments. He scored a couple buckets late to salvage his stats to a degree but in reality he was thoroughly outplayed by Gary Forbes who appears to have strength, size and experience over Ellington. Ellington hit just 1-5 from three and his six turnovers and 3-10 shooting were too much for his teammates to overcome. Ellington has first round potential, but based on his showing after the first day, it's not likely to be this year.
Ronald Steele is another guy who really has no business being here. To not play the past season and show up and hope to climb into the first or even second round just appears to be trying to take the easy way out. Why not return to Alabama and show the ability to stay healthy and return to his underclassman, pre-injury form. Steele has shown some solid play making ability and vision that he had early in his Alabama career, however his inability to stay in front of opponents (Drew Neitzel) or get by opponents just isn't back to where it needs to be. On the positive side he racked up 6 assists to just 1 turnover.
Shan Foster struggled to get on track with just 7 points on 2-7 shooting. His lack of a great handle and ability to get by opponents appears to be getting exposed some. He's a great shooter, but still must show a more diverse offensive game.
Darnell Jackson had 8 points on 4-5 shooting, but didn't do anything to stand out. He;s a meat and potatoes type but lacks the speed and athleticism necessary for the NBA level, especially when considering his lack of optimum size for the post position. Look for Jackson to be a tremendous power forward over seas.
Game 3
Team Four (Blue) 94 – Team Three (White) 81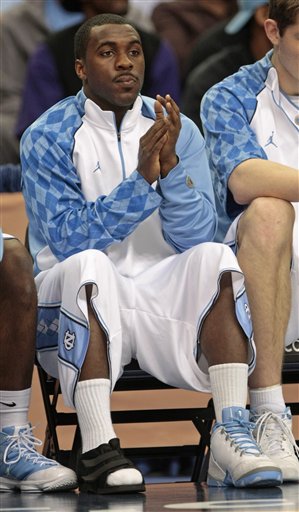 Ty Lawson (10pts, 5ast, 3stl) From the moment he came on the floor he changed the tempo of the game. Pushing the ball in transition, he made some nice decisions finding open teammates or getting to the hoop and finishing. The highlight for him may have been the fact that he completely outplayed Lester Hudson, the man he was matched up with. Not only did he get by Hudson at will of the dribble, but he held him scoreless for the longer part of the game (Lester finally broke the seal when Lawson went to the bench). He did knock down a few jump shots, but his release continues to be all over the place, resulting in inconsistent shooting and some bad misses.
Reggie Williams (10pts, 4-6fg, 2stl) An ultra efficient shooting game, Williams more than held his own. With some crafty moves off the dribble and around the basket, he was able to show some of the repertoire that helped him lead the nation in scoring for consecutive years. His nice ability to finish on the break as well as set other guys up in transition are very strong aspects of his game. There have been concerns about his defense, but today, while matched up with JR Giddens, Williams was able to stay in front and force Giddens into some difficult shots.
Sonny Weems (6pts, 3-10fg) He had an off shooting day and at times forced the issue a little too much, but his potential is undoubtedly present. He has made major improvements to his ball handling and jump shot, and in the short time that we saw him today, these were on display. His offensive repertoire is still developing, but some nice drives to the hoop and a nice floater definitely show that he is on the right path.
Pat Calathes (10pts, 5ast) Showed some nice moves off the dribble and in transition, he was able to use his quickness to get by the defense. He seems to have put on some weight since Portsmouth, but still looks extremely skinny. He can knock down the mid-range shot, but with his unorthodox release he seems to lack range out to the NBA 3.
Charles Rhodes (11pts, 4-8fg) Has put on some nice muscle definition and showed good touch from about 15 feet. He looked very good running the floor and was not afraid to mix it up in the paint.
Keith Brumbaugh (6pts, 3rebs) Here for a second go-around, not much was seen from the JUCO hopeful. His shot may be the most awkward in camp as it has side spin, and he shoots with his hands together, as if he lacks the strength to get it off. To his credit he is fairly active, and plays with some tenacity, but those two alone will not get it done.
Brian Roberts (11pts, 2 ast) Has good speed in the open court and a nice 1st step that allows him to get to the right spots on the floor. His shooting form may be the most natural at camp and his efficiency is also good (2-3 3fg, 4-9fg). The downside with him is that he is undersized and his slight frame gives him matchup problems with the bigger guards.
Frank Elegar (8pts, 5rebs, 3ast) A decent performance, he is fairly active and aggressive. He is definitely a tweener, lacking go to game on the perimeter and on the block to do any serious damage.
Vladimir Golubovic (9pts) The only international at camp was able to score around the hoop, but his stiffness and lack of post moves make it difficult for him to bang with the more physical big men.
Sasha Kaun (4pts, 9rebs) Did not get many touches, as a result his shooting numbers cannot be taken into consideration too strongly. He hit the boards and worked hard on the defensive end, unfortunately he is finding out the hard way just how much ball dominant guards can affect the game.
Malik Hairston (8pts, 4ast) A decent stat line by the former Duck, yet his game never did much to impress. He is a solid player, but seems satisfied shooting spot ups instead of attacking the hoop.
White
The story of game three was the utter domination of Lester Hudson by Ty Lawson. Hudson looked very uncomfortable bringing the ball up against the ultra quick Lawson and forget about running the offense or setting up teammates for scores, he had his hands full just getting the ball up to the front court and to a teammate. Hudson's 5 assists and 4 points came for the most part when Lawson was on the bench in the second half. Hudson's stock has taken a dip after day 1.
James Mays was an effective 5-6 from the floor using his big wingspan and athleticism to score on a number of baskets around the hoop. He also got to the line four times converting three.
Trent Plaisted struggled to get into the flow of the game. He's been one of the more impressive players in camp during drills, but was unable to get the touches to make much happen in this game. He looked athletic running the floor and crashing the boards.
DeMarcus Nelson shared game high honors with James Mays with 13. His 4-11 from the floor didn't help his cause, nor did his four turnovers. He plays bigger than his 6-3 height, but has his work cut out for himself to find a spot in the second round.
Stanley Burrell is much better on the defensive side of the ball, and that showed in this game as he shot just 1-5. He was aggressive driving and got to the line converting 5-6.
Takais Brown is a bruising bigman who played at Georgia before signing a professional deal to play in FInland. His 2-5 shooting for four points didn't do much to draw attention to himself. He has good size and strength, but lacks the explosiveness and skill level to get a serious look in the NBA.
One thing Jiri Hubalek can do is knock down open jumpers. Any time he's left open, it's usually as good as in the net. Unfortunately he doesn't have much game outside of spot up shooting to speak of.
JR Gidddens has been solid in scrimmages and drills but that didn't translate into the game as he struggled without anyone to set him up. He finished with 7 points on 2-4 shooting. While this performance certainly didn't hurt him, it also isn't a positive and he'll need to pick up his play in the next couple days.
Marcus Dove had just 5 points but actually played well giving Brumbaugh a tough time with his tremendous defensive ability as well as showing some range knocking down two long jumpers.
Chris Daniels had 7 points and 6 boards, not bad for the soft touched center. He doesn't have much quickness or athleticism but can knock down shots with consistency and range.
Participant List
Ramel Bradley 6-1 179 PG Kentucky Sr.
Tyrone Brazelton 6-2 180 PG W.Kentucky Sr.
Takais Brown 6-8 250 PF Georgia Sr.
Keith Brumbaugh 6-8 210 SG/SF HCC So.
Stanley Burrell 6-2 200 PG/SG Xavier Sr.
Brian Butch 6-11 255 PF/C Wisconsin Sr.
Jamar Butler 6-1 195 PG Ohio State Sr.
Pat Calathes 6-10 210 SF St. Joseph's Sr.
Joe Crawford 6-4 205 SG Kentucky Sr.
Chris Daniels 7-0 260 C Texas A&M CC Sr.
Joey Dorsey 6-9 260 PF/C Memphis Sr.
Marcus Dove 6-8 220 SF Oklahoma St. Sr.
Josh Duncan 6-8 225 PF Xavier Sr.
Frank Elegar 6-8 230 PF Drexel Sr.
Wayne Ellington 6-4 195 SG UNC So.
Patrick Ewing Jr. 6-8 238 Georgetown Sr.
Gary Forbes 6-6 201 SG Massachusetts Sr.
Shan Foster 6-6 190 SG Vanderbilt Sr.
JR Giddens 6-5 205 SG New Mexico Sr.
James Gist 6-8 223 SF/PF Maryland Sr.
Vladimir Golubovic 7-1 250 C Ser. 1986
Kentrell Gransberry 6-9 270 PF S.Florida Sr.
Danny Green 6-6 210 SF North Carolina Jr.
Malik Hairston 6-6 215 SG Oregon Sr.
DeVon Hardin 6-10 240 PF California Sr.
Richard Hendrix 6-8 260 PF Alabama Jr.
George Hill 6-1 180 PG IUPUI Jr.
Kyle Hines 6-6 240 PF NC Greensboro Jr.
Jiri Hubalek 6-11 225 PF Iowa St. Sr.
Lester Hudson 6-3 190 PG UT-Martin Jr.
Othello Hunter 6-9 225 PF Ohio St. Sr.
Darnell Jackson 6-8 240 PF Kansas Sr.
Shawn James 6-8 225 PF Duquesne Jr.
Davon Jefferson 6-8 210 SF USC Fr.
Joseph Jones 6-9 250 PF Texas A&M Sr.
Sasha Kaun 6-11 246 C Kansas Sr.
Marcelus Kemp 6-5 210 SG Nevada Sr.
Ty Lawson 5-11 193 PG UNC So.
Maarty Leunen 6-9 220 SF/PF Oregon Sr.
Longar Longar 6-11 228 PF/C Oklahoma Sr.
Aleks Maric 6-11 270 C Nebraska Sr.
James Mays 6-8 235 PF Clemson Sr.
L.R. Mbah a Moute 6-7 230 SF UCLA Jr.
Drew Neitzel 6-0 180 PG Michigan State Sr.
DeMarcus Nelson 6-3 195 SG Duke Sr.
David Padgett 6-11 250 C Louisville Sr.
Jeremy Pargo 6-2 219 PG Gonzaga Jr.
Trent Plaisted 6-10 245 PF/C BYU Jr.
Quan Prowell 6-8 210 SF/PF Auburn Sr.
Shaun Pruitt 6-10 255 PF/C Illinois Sr.
Charles Rhodes 6-8 240 PF Miss.St. Sr.
John Riek 7-2 230 C Sudan HSSr.
Brian Roberts 6-2 180 PG Dayton Sr.
Russell Robinson 6-1 196 PG Kansas Sr.
Richard Roby 6-6 205 SG Colorado Sr.
Sean Singletary 5-11 175 PG Virginia Sr.
Ronald Steele 6-2 185 PG Alabama Jr.
Bryce Taylor 6-4 205 SG Oregon Sr.
Mike Taylor 6-2 205 SG Idaho Stampede Sr.
Mark Tyndale 6-5 210 SG Temple Sr.
Robert Vaden 6-5 224 SG UAB Jr.
Deron Washington 6-7 205 SF Va. Tech Sr.
Sonny Weems 6-6 201 SG Arkansas Sr.
Reggie Williams 6-6 185 SG VMI Sr.